Nine Years for the Cultural Destruction of Timbuktu
The first Islamist militant being tried in The Hague pleaded guilty last month to his crimes and expressed remorse.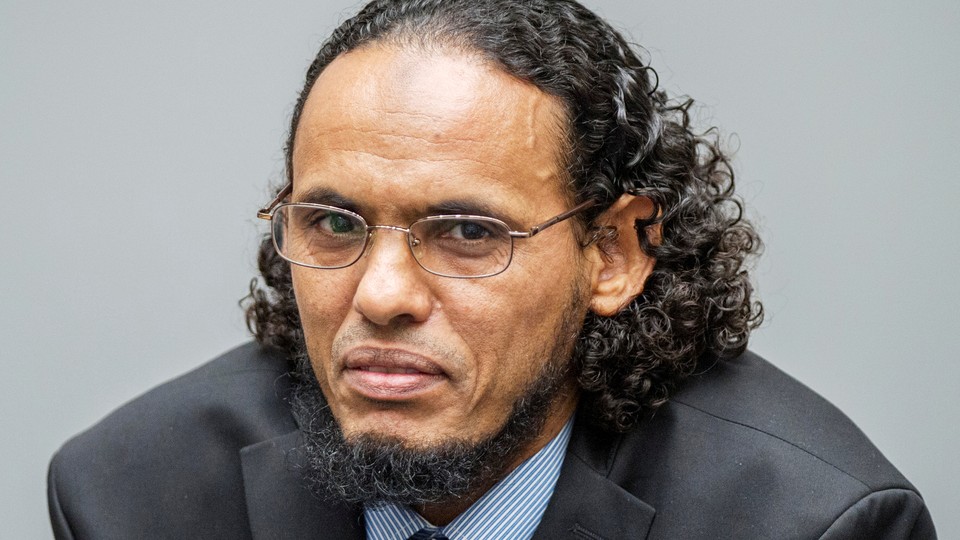 Updated at 7 a.m. ET
The International Criminal Court (ICC) in The Hague has given an Islamist militant nine years in prison for the cultural destruction of the historic city of Timbuktu.
Ahmad al-Faqi al-Mahdi is not only the first Islamist militant to stand trial at the ICC, he is also the first person ever to plead guilty to the charges against him—which he did in August.
"I am really sorry, I am really remorseful, and I regret all the damage that my actions have caused," Mahdi said at the time. "I would like to give a piece of advice to all Muslims in the world, not to get involved in the same acts I got involved in, because they are not going to lead to any good for humanity."
It's statements such as that which resulted in a relatively mild sentence. As we previously reported, Mahdi faced up to 30 years in prison, but his attorneys struck an agreement with the prosecutor's office for a sentence of between nine and 11 years.
Judge Raul C. Pangalangan, the presiding judge in the case, said the three-judge panel, which ruled unanimously, found five mitigating circumstances in delivering the verdict: "namely your admission of guilt, your cooperation with the prosecution, the remorse and empathy you have expressed for the victims, your initial reluctance to commit the crime and the steps you took to limit the damage caused, and even … your good behavior in detention."
Mahdi, dressed in a tan suit, and listening on his headphones to the verdict being translated, listened impassively as he heard he would spend nine years in prison, with time deducted for the period he's already been in detention.
Here's more about Mahdi from our previous story:
Born in 1975, about 60 miles west of the ancient Malian city he's accused of destroying, Mahdi, a religious scholar, was allegedly a member of Ansar Eddine, a Tuareg movement linked to al-Qaeda in the Islamic Maghreb. The ICC documents say Mahdi directed Islamist fighters to destroy religious sites in Timbuktu with pickaxes and chisels between June and July 2012. The ICC issued a warrant for his arrest in September 2015 "for war crimes of intentionally directing attacks against historic monuments and buildings dedicated to religion, including nine mausoleums and one mosque" in Timbuktu. One year later, he was transferred to the ICC by authorities in Niger.
Timbuktu, a UNESCO-listed World Heritage, was an important intellectual and spiritual center of Islamic thought in the 15th and 16th centuries. But in 2012, Islamist militants overran the city and imposed a strict version of shariah law. They were eventually pushed out of Mali by French military intervention.