Tim Tebow's Minor League Contract
The New York Mets announced the former NFL quarterback will participate in the Instructional League.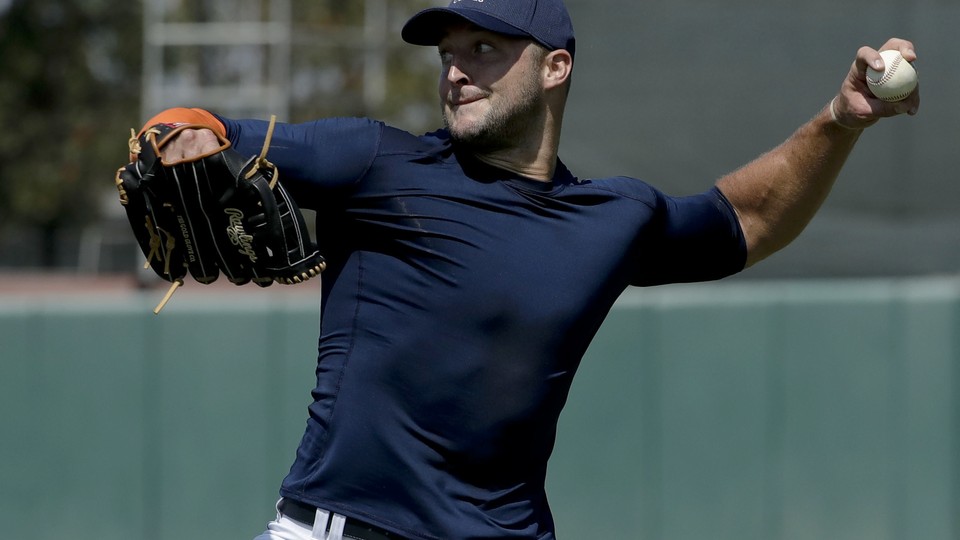 NEWS BRIEF Tom Tebow, the former NFL star, has been signed to a minor-league contract with the New York Mets, the team announced Thursday.
Tebow, the Heisman-winning quarterback for the Florida Gators who was a first-round pick in the 2010 NFL draft, tried out last week in front of Major League Baseball scouts in Los Angeles. As we reported:
Tebow's name alone was enough to guarantee that a sizeable audience showed up to his special one-person tryout. And the fact that Tebow, 29, looks as fit as he ever has probably didn't hurt, either. But the former football player's actual baseball ability, as one unnamed scout told ESPN after the workout, "has a long way to go."
Tebow's NFL career, from 2010 to 2012, comprised seasons with the Denver Broncos and the New England Patriots. ESPN points out he "hasn't played organized baseball since his junior year at Nease High School in Ponte Vedra, Florida, in 2005."
The Instructional League runs from September to October in Port St. Lucie, Florida.