The Private Meeting Between British Students and Vladimir Putin
"He was small in person but not in presence," one wrote after talking to the Russian president.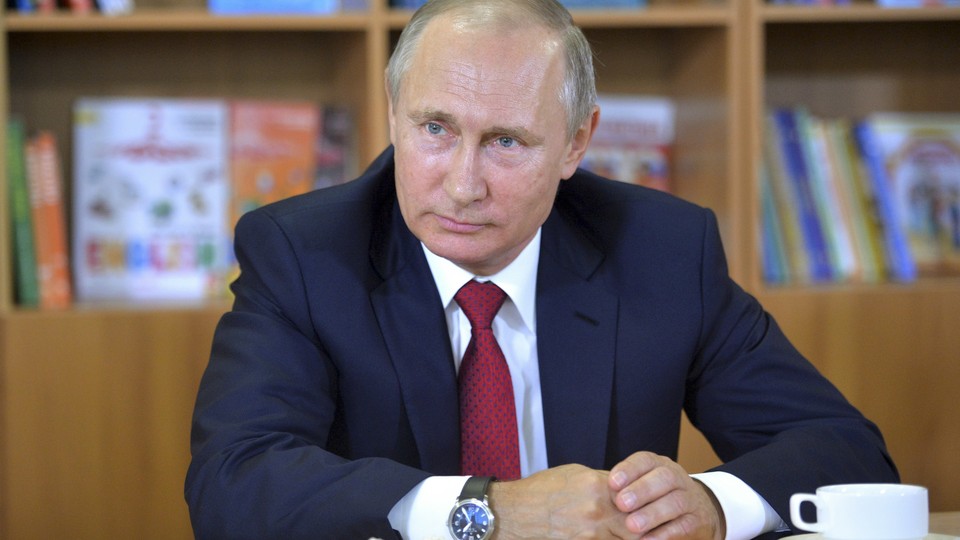 Russian President Vladimir Putin has yet to meet with new British Prime Minister Theresa May, but he did find time for a two-hour sit-down with 11 students from one of Britain's most expensive boarding schools, Eton College.
The students from the renowned all-boys school were photographed at the Kremlin, shaking hands with Putin and sitting with him around a table. The Telegraph reported Wednesday that the meeting was believed to have "been set up by a Russian bishop after he gave a talk at the Berkshire college in March." It's not clear exactly when the meeting took place.
The newspaper also wrote that one of the boys, David Wei, said he organized the trip to "improve relations between the West and Russia." Wei reportedly wrote on Facebook:
"It took me a total of ten months, 1040 emails, 1000 text messages, countless sleepless nights, constant paranoia during A2 exam season, declining academic performance… but here we are.


Guys, we truly gave Putin a deep impression of us and he responded by showing us his human face."
An Eton spokeswoman told The Telegraph the trip was in no way connected with the school.
"This was a private visit by a small group of boys organised entirely at their own initiative and independently of the College," she said.
The Kremlin has declined to comment, according to the newspaper.
Some of the boys shared their Kremlin experience on social media. Trenton Bricken, who, per his Facebook page, just started college at Duke University, shared on August 24 this photo, captioned, "Two hour meeting with President Putin. He was small in person but not in presence."
The Sun spoke to a "source close to the students," who said the boys "went last week" and "didn't tell anyone they were going, I would assume it was so the school didn't find out because I don't think they would be happy." The source said:
From what I understand, they were talking to him about Eton because he had a keen interest in the college, mainly due to previous politicians in the UK who had attended.

After they got home, the boys posted the pictures to social media, which I thought was strange because it looked like they had been trying to keep it quiet previously.
Wei's hopes—that the meeting would "improve relations between the West and Russia"—likely won't be realized. But at least the boys got some cool photos out of it.