The Mass Shooting at a Washington Shopping Mall
Five people were killed in the attack; police later arrested a suspect after a day-long manhunt.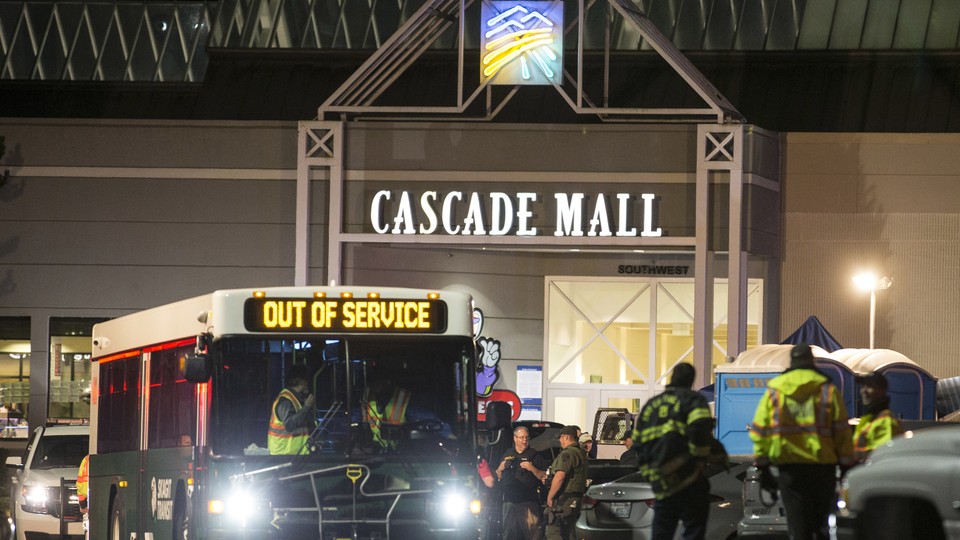 Updated at 11:30 p.m. ET
NEWS BRIEF Five people were fatally shot at a shopping mall in Burlington, Washington. The killer left the scene, but state police said they arrested a suspect on Saturday night.
Gunman captured tonight by authorities, Details forthcoming, Press Conference tonight at 1800 Continental Pl. Time TBA

— Sgt. Mark Francis (@wspd7pio) 25 September 2016
The shooting happened in the cosmetics area of a Macy's department store at the Cascade Mall. A state patrol sergeant, Mark Francis, told reporters that four women died at the scene, and later tweeted that a fifth victim, a man, had died from his injuries in a local hospital.
Eleven search teams scoured the mall, the sergeant said, some with dogs, going store by store.
A Washington State Patrol spokesman tweeted a photo of the suspect, who has yet to be identified.
Friday night's shooting happened just less than a week after an earlier mass attack at an American shopping mall. Last Saturday, a 22-year-old man stabbed nine people at a St. Cloud, Minnesota, mall before being shot and killed by an off-duty police officer. ISIS media outlets claimed responsibility for the attack.
Law-enforcement officials have not linked the shooting in Washington to terrorism, and the FBI's Seattle office tweeted they had no information that additional attacks in the state are imminent.
At this time, #FBI has no information to suggest additional attacks planned in WA state. Assisting with intel review & manpower #SkagitDEM

— FBI Seattle (@FBISeattle) 24 September 2016