The British-Iranian Woman Sentenced to Five Years in a Tehran Prison
Nazanin Zaghari-Ratcliffe's family said the dual citizen, detained for more than 150 days, was convicted on unknown charges.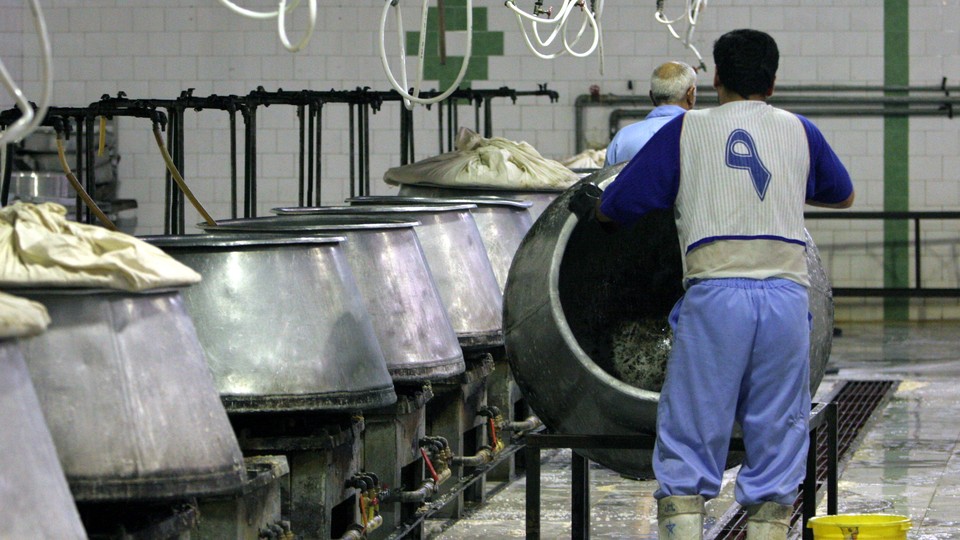 NEWS BRIEF Nazanin Zaghari-Ratcliffe, a dual British-Iranian citizen, was sentenced to five years in prison by Iran's Revolutionary Tribunal on unknown charges, Reuters reports.
"Nazanin confirmed this sentence to her husband in a phone call today (9 September). She is expected to serve her sentence in Evin prison," her family said in a statement Friday.
Zaghari-Ratcliffe, a 37-year-old charity worker with the Thomson Reuters Foundation, was traveling from Tehran to her home in London with her two-year-old daughter on April 3 when she was detained by the Iranian Revolutionary Guard in Tehran's Imam Khomeini airport. In August, when Zaghari-Ratcliffe first appeared in court, the Associated Press reported she was accused of taking part in the "design and implementation of cyber and media projects to cause the soft toppling of the Islamic Republic." Since then, she has remained in detention for 159 days and is currently being held in Tehran's Evin Prison, known for housing political prisoners.
Monique Villa, the CEO of the Thomson Reuters Foundation, issued a statement condemning  the sentence, which she called a "terrible situation."
"I have instructed the Thomson Reuters Foundation's lawyers to find out what these charges are and I know that Nazanin's family has asked the same of their lawyer in Iran," she said.
The ruling comes days after the United Kingdom and Iran restored full diplomatic relations for the first time in five years. Though relations were never formally severed, both countries closed their embassies after Iranian protesters attacked the British embassy in Tehran in 2011. Though the U.K. has previously advocated for Zaghari-Ratcliffe's release, Iran has refused to grant the request on the grounds the country does not recognize dual nationalities, and therefore does not grant requests for consular access.
British officials, however, said they would continue to press for access to Zaghari-Ratcliffe.
"We are deeply concerned by reports that Mrs Zaghari-Ratcliffe has been sentenced without confirmation of the charges made against her," the British Foreign Office said in a statement.
Since her detention, Zaghari-Ratcliffe's's husband, Richard Ratcliffe, began a petition calling on former Prime Minister David Cameron and current Prime Minister Theresa May to intervene on his wife's behalf. It has earned more than 800,000 signatures.
Amnesty International UK issued a petition Friday calling on Boris Johnson, the British foreign secretary, to advocate on Zaghari-Ratcliffe's behalf.