Colin Kaepernick's Continuing Protest
Two other football players joined the 49ers quarterback in his refusal to stand for the national anthem.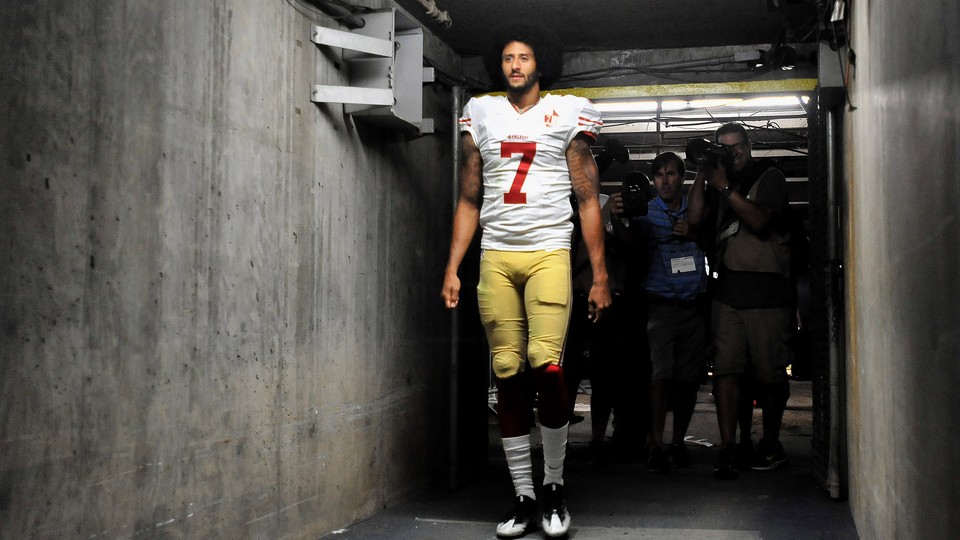 NEWS BRIEF After a week of hot takes, think pieces, and all the reactions in between, Colin Kaepernick once again did not stand for the national anthem.
But instead of sitting during the playing of "The Star Spangled Banner," as he did last Friday, the 49ers quarterback took a knee. He said after the game it was an effort to shift focus back to why he sat in the first place: issues of racial injustice.
His decision came after a conversation he had with Nate Boyer, an unsigned long-snapper and former Army Green Beret, and Eric Reid, the 49ers safety who joined Kaepernick in protest. Kaepernick told reporters:
We were talking to him about how can we get the message back on track and not take away from the military, not take away from pride in our country but keep the focus on what the issues really are. As we talked about it, we came up with taking a knee because there are issues that still need to be addressed and there was also a way to show more respect for the men and women that fight for this country.
As Kaepernick and Reid knelt, Boyer stood next to them. During San Francisco's preseason win over the San Diego Chargers, Kaepernick applauded when the public announcer celebrated members of the military, and even stood during a rendition of "God Bless America." As he explained to reporters after the game:
I love America. I love people. That's why I'm doing this. I want to help make America better. I think having these conversations helps everybody have a better understanding of where everybody is coming from.
After the game, Boyer, the former Green Beret, tweeted:
Kaepernick said Thursday he will donate the first $1 million he earned this season to organizations that empower local communities. And he and Reid weren't alone in protest this week. Seattle Seahawks cornerback Jeremy Lane sat during the national anthem in his game against the Oakland Raiders. He said after the game:
It's something I plan to keep on doing until I feel like justice has been served… I don't mean no disrespect toward anybody, but I'm just standing behind what I believe.
The NFL's regular season starts next week.