Texas's Refusal of Refugees
Governor Greg Abbott warned the federal government his state will withdraw from its resettlement program, citing security fears.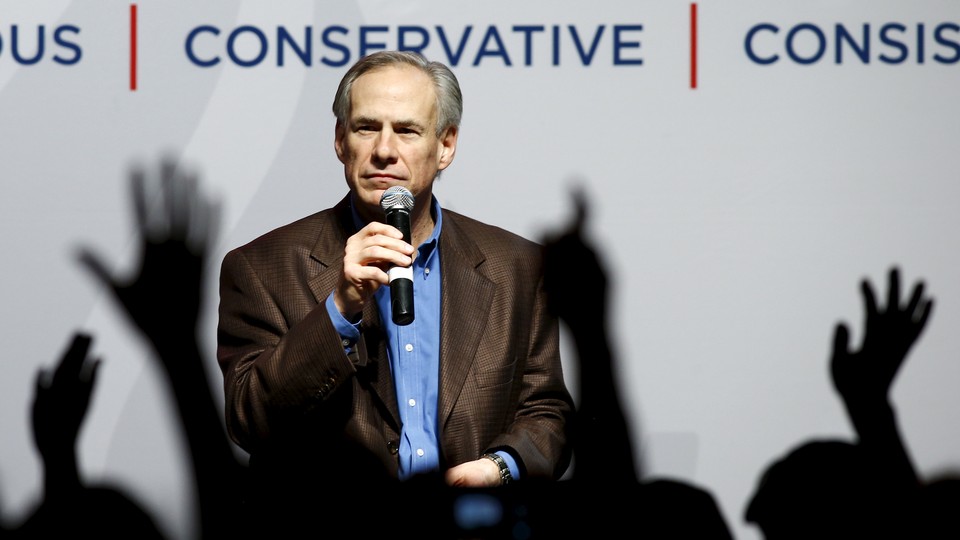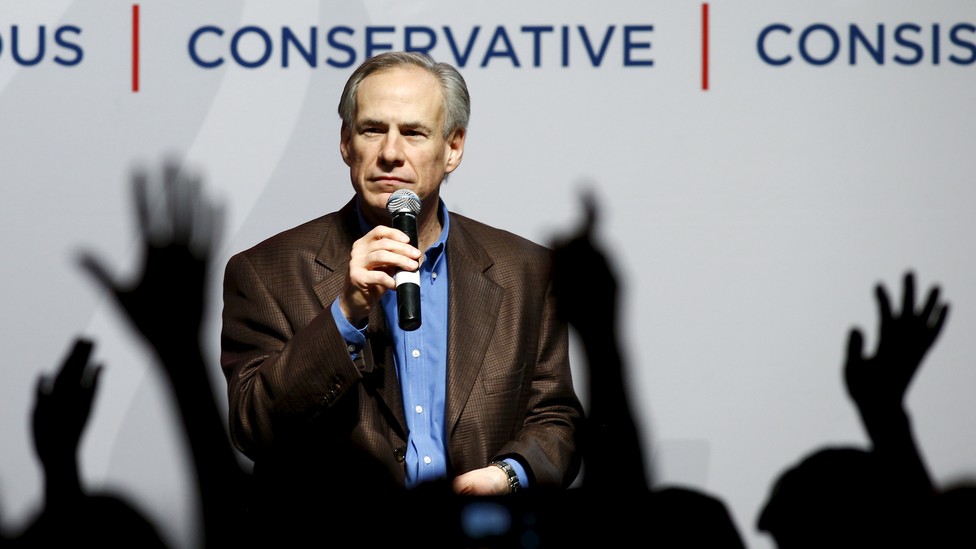 Texas Governor Greg Abbott has threatened to withdraw his state from the federal refugee-resettlement program, escalating the clash between Republican-led states and the Obama administration over the relocation of refugees fleeing the Syrian civil war.
State officials on Wednesday formally notified the federal Office of Refugee Resettlement of its intent to withdraw unless the agency agrees to "unconditionally approve" its annual state plan before the September 30 deadline. The state's updated plan would "require national-security officials to ensure that refugees do not pose a security threat to Texas," Abbott's office said in a statement.
Abbott repeatedly cited security fears about possible refugees and said the resettlement program was "riddled with serious problems that pose a threat to our nation."
"The Director of the Federal Bureau of Investigation and the Director of National Intelligence have repeatedly declared their inability to fully screen refugees from terrorist-based nations," he added, repeating a common conservative criticism of the program.
The current process for refugees to enter the United States is arduous and time-consuming. Federal law-enforcement and intelligence agencies perform extensive background checks and screenings on resettlement applicants, often lasting as long as two years before the refugee sets foot on American soil. As my colleague Russell Berman reported last November, applicants receive the most extensive security checks of any travelers to the U.S.
The move comes a day after President Obama pledged to accept roughly 110,000 refugees from around the world in 2017, a 60 percent increase over this year's total. Obama, speaking at a United Nations summit in New York, framed the Syrian refugee crisis as a "test of our common humanity" and criticized opponents of resettlement.
"To slam the door in the face of these families would betray our deepest values," he said. "It would deny our own heritage as nations, including the United States of America, that have been built by immigrants and refugees."
Abbott cited Obama's pledged increase as justification for his threat to withdraw from the program. "Even with the inability to properly vet refugees from Syria and countries known to be supporters or propagators of terrorism, President Obama is now ineptly proposing a dramatic increase in the number of refugees to be resettled in the U.S.," he said.
Texas's withdrawal from the federal program wouldn't block refugees from entering or resettling there, the Texas Tribune noted, since federal agencies could directly fund nonprofit resettlement agencies instead. But it would be a major break from Texas's long history as the leading state for refugee relocation. A large Vietnamese community resettled in Texas in the 1970s after the collapse of South Vietnam, followed by tens of thousands of refugees from other countries in subsequent decades. "If Houston were a country, it would rank fourth in the world for refugee resettlement," the Houston Chronicle said last year.
Abbott has staked out a leading role in state-level resistance to the Obama administration's Syrian refugee program. In the initial aftermath of the Paris terrorist attacks last November, Abbott directed state agencies to not cooperate with federal refugee-assistance agencies, citing news reports a refugee's passport had been found on one of the attackers' bodies.
The following month, Texas sued the federal government to block a Syrian family from being resettled in the state. A federal judge dismissed the case on procedural grounds in June, which Texas has appealed.
Legal efforts by other states to block Syrian refugees have also largely floundered in the federal courts. An ongoing lawsuit between Indiana and a private refugee-resettlement organization underscores the legal hurdles they face. In that case, Exodus Refugee International is challenging a directive by Indiana Governor Mike Pence that forbade state agencies from granting federal funds to resettlement organizations that help Syrian refugees. A federal district court sided with Exodus on equal-protection and civil-rights grounds; Indiana appealed the ruling.
During a heated oral argument session in Chicago for the case last week, two federal judges from the Seventh Circuit Court of Appeals criticized Indiana's legal interpretations and motivations. A series of questions by Judge Frank Easterbrook during those arguments also foreshadowed Abbott's withdrawal threat. At one point, he asked Fisher if any provisions in the federal Refugee Act of 1980, through which Congress funds state resettlement efforts, allowed states to only partially participate in those efforts.
Could Indiana lawfully help some refugees but not others? Easterbrook framed the question by comparing resettlement programs to Medicaid, in which states must be either all-in or all-out. Fisher at first pointed to phrasings in some federal regulations but, when pressed by Easterbrook, admitted he couldn't cite anything in the statute itself that allowed partial participation. Implicitly, that meant Indiana had to be either all-in or all-out too.
One week later and one thousand miles to the southwest, Abbott threatened to opt out.