What Syria's Tourism Office Isn't Telling You
A new promotional video from the Assad regime touts the country's beaches and lush green landscapes—but completely ignores its civil war.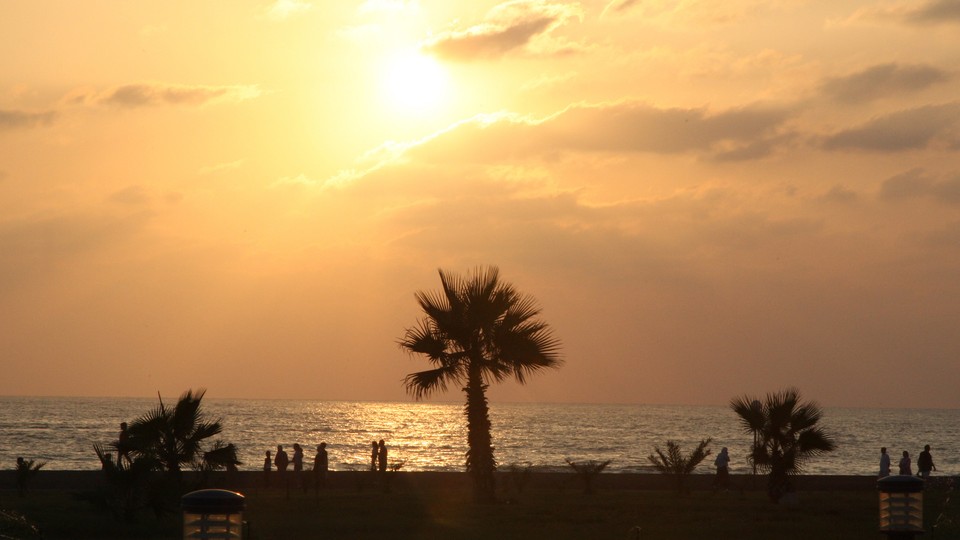 NEWS BRIEF The Syrian Ministry of Tourism released a new promotional video of the coastal city of Tartus, featuring its expansive Mediterranean coastline, packed beaches, and lush green landscapes.
But the video fails to capture one thing: the country's five-year civil war.
The one-minute, 43-second video titled "Syria—Always Beautiful," set to an upbeat remix of Alan Walker's "Faded," was one of many videos posted to the ministry's YouTube page in recent weeks in an apparent effort to entice tourists to visit areas of the war-torn country still under the control of President Bashar al-Assad's regime.
Although the aerial footage of the bustling beach town gives viewers a sense of Syria's once-booming tourism industry—the country welcomed 8.5 million visitors in 2010— it provides a stark contrast to what Tartus has since become. Five years into the civil war, which has claimed the lives of almost half a million people and displaced millions, the city has been bombarded by the Islamic State, including an attack that killed 150 people and wounded 200 others in May.
Local Syrian news outlet Al-Masdar News notes that the coastal enclave depicted in the video has "virtually been untouched by the war." But such assurances are unlikely to convince the numerous countries that have issued travel warnings to their citizens asking them to avoid visiting the country.
"No part of Syria should be considered safe from violence," the U.S. State Department says on its website. "The potential for hostile acts exists throughout the country, including kidnappings and the use of chemical warfare against civilians."
Prior to the start of the civil war, foreign tourism accounted for 14 percent of Syria's gross domestic product, Bloomberg reports. The country was a popular tourist destination for its numerous historic monuments, many of which have been designated as UNESCO World Heritage Sites. One tourist spot, the city of Palmyra, saw many of its ancient ruins destroyed by ISIS militants this year.