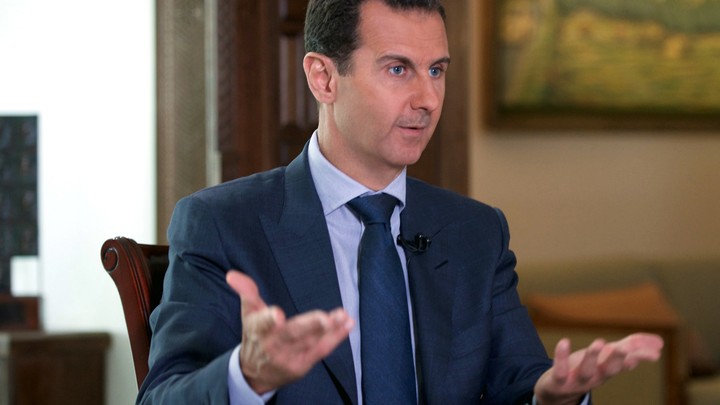 Here's what's happening Thursday in Syria: Syrian President Bashar al-Assad, in an interview with The Associated Press, said the civil war was likely to "drag on" because of outside support for groups opposed to him. Rebel-held parts of Aleppo saw some of the worst bombings after the collapse this week of a nationwide cease-fire. In New York, diplomats from the U.S., Russia, and other countries were set to meet to discuss a possible resumption of the truce. The U.N., which suspended humanitarian deliveries this week after an aid convoy was struck, said it would resume those deliveries.
Assad has granted few interviews to Western news organizations since the civil war erupted more than five years ago. In his comments to the AP, Assad said the he doesn't believe "the United States will be ready to join Russia in fighting terrorists in Syria." He also rejected U.S. claims that a Syrian or Russian airstrike hit a humanitarian aid convoy this week near Aleppo, killing 20 people, and said the U.S. deliberately struck Syrian soldiers in Deir el-Zou last week, during the cease-fire, killing 60 of them. But it's his remarks about when the protracted conflict, which has claimed more than 300,000 lives and spawned a massive humanitarian crisis, will end that are likely to garner most attention.
"When you have many external factors that you don't control, it's going to drag on, and no one in this world can tell you when" the conflict will end, he told the AP.
Assad is now more firmly entrenched as Syria's president than at any time since the civil war began in 2011, and he has little incentive to stop the fighting. The conflict pits Assad, backed by Russia, Iran, and Hezbollah, against a coalition of rebel groups who range in affiliation from moderate to Islamist, backed individually, or in a combination of, the U.S., Saudi Arabia, Turkey, and Qatar. With his Russian and Iranian military backers, Assad has wrested back much of the territory lost since the fighting began in 2011. The U.S. and its allies, as well as Syrian government troops and their allies, are striking ISIS and al-Qaeda, perhaps the most potent of all of Assad's foes. Aleppo, parts of which are controlled by a coalition of opposition groups, is the last major rebel redoubt, and it was the scene of some of the deadliest bombings Thursday since the cease-fire was declared over this week. The Guardian reported dozens of people, including children, had been killed. An Agence France-Presse reporter in the city said his entire street was left burning after overnight bombing raids.
In New York, John Kerry, the American secretary of state, was set to meet with Sergey Lavrov, his Russian counterpart, and other members of the 23-nation International Syria Support Group to push for a resumption of the cease-fire. The sticking points, according to Al Jazeera: "Kerry has demanded that Russia order Assad to ground his air force in order to re-establish the credibility of the peace effort in the eyes of the suspicious opposition. Lavrov has countered that the UN Security Council should consider adding some more of the anti-Assad rebel groups to its list of proscribed terrorist organizations."
Relations between the two countries are tense following the end of the cease-fire and the bombing of the humanitarian convoy. The U.S. blamed Russia for that strike, but Moscow rejected that allegation.
"It's going to be very difficult," Kerry acknowledged Wednesday. "We'll see what people are willing to do."
We want to hear what you think about this article. Submit a letter to the editor or write to letters@theatlantic.com.