Uncovering the Mystery of a Sri Lankan Journalist's Death
Lasantha Wickrematunge's body will be exhumed years after he wrote a column saying the government would kill him.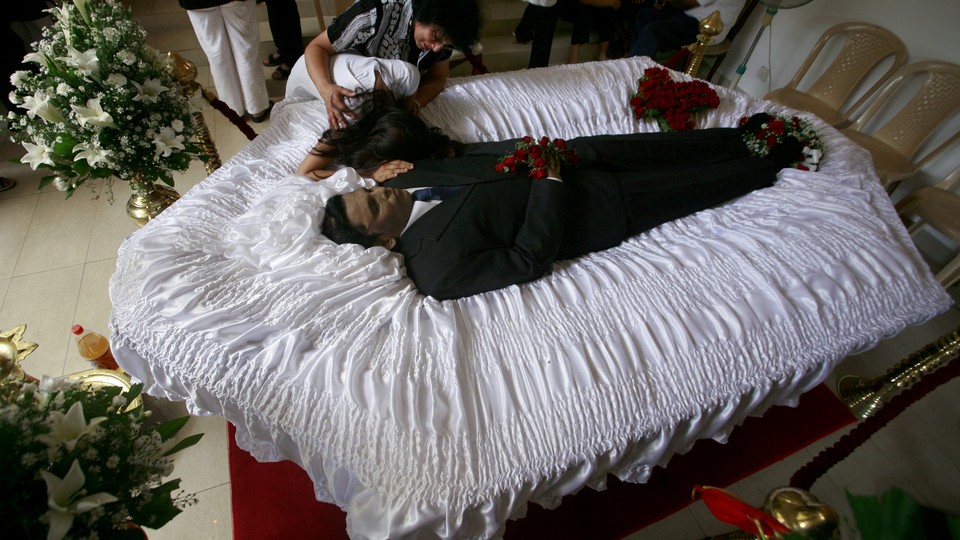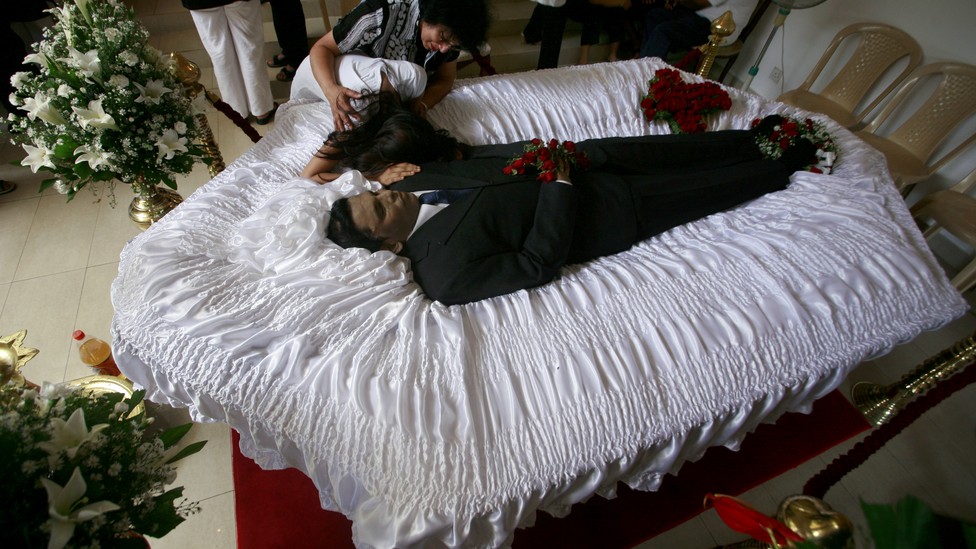 Before they came to kill him, Lasantha Wickrematunge wrote a 2,500-word story about how he was glad to be labeled a traitor, and happy to join the ranks of Sri Lanka's dead journalists.
Wickrematunge was killed as the country's decades-long civil war neared its final months. For much of the 25-year fight between the government and Tamil Tiger separatists, Wickrematunge criticized the government for killing its own citizens, and he founded the country's most anti-establishment newspaper, The Sunday Leader (It's tagline:"unbowed and unafraid"). In 2009, gunmen on a motorcycle killed Wickrematunge on his way to work. In a column published three days after his death, Wickrematunge spoke directly to then-President Mahinda Rajapaksa. The president would undoubtedly call for a thorough investigation into his death, Wickrematunge wrote, "But like all the inquiries you have ordered in the past, nothing will come of this one, too. For truth be told, we both know who will be behind my death, but dare not call his name."
On Tuesday the government, under leadership of a new president, will exhume Wickrematunge's body, hoping to find clues to who killed him. Guards have stood around his grave since early September, just two months after the government arrested a military intelligence officer in connection with Wickrematunge's killing.
As Wickrematunge predicted, the former president had indeed called for a swift investigation into his death. And in the years that followed, Rajapaksa ended his country's civil war after launching a brutal military offensive against the Tamil rebels. The offensive resulted in disapprobation from Western governments that criticized the Sri Lankan military's operations in civilian areas, but Rajapaksa was unbowed—insisting he'd done what was needed to end the war against what was once regarded as one of the world's most effective terrorist groups.
For six years, the investigation into Wickrematunge's death led nowhere. Then last year, in a surprising win, Maithripala Sirisena, the progressive candidate, became president. From the very first months of taking office, Sirisena has promised to re-examine Wickrematunge's death, and the deaths of other journalists killed in the last decade of the civil war.
Both The Guardian and The New Yorker published Wickrematunge's posthumous column, which deserves a read in its entirety. But below are a few poignant excerpts.
Already Wickrematunge had twice been attacked, and his home sprayed by machine guns. His family had moved to Australia for safety, and he was sure he'd soon be killed, as many journalists already had. He opened his column by asking why, if he was so sure of his own death as to write a column announcing it, is it necessary to continue to speak out against the government?
I often wonder that. After all, I too am a husband, and the father of three wonderful children. I too have responsibilities and obligations that transcend my profession, be it the law or journalism. Is it worth the risk? Many people tell me it is not.
The paper he founded 15 years before, the Leader, had gained special attention from the government for uncovering corruption. In opinion pieces, his writers frequently blamed both the government and the Tamil Tigers for killing citizens. The paper urged the government to see the Tigers' position through the context of history, saying it was important to address the root causes of terrorism.
We have also agitated against state terrorism in the so-called war against terror, and made no secret of our horror that Sri Lanka is the only country in the world routinely to bomb its own citizens. For these views we have been labelled traitors; and if this be treachery, we wear that label proudly.
Wickrematunge and Rajapaksa had known each other for 25 years—and had begun as friends. The paper sometimes referred to Rajapaksa by his first name, meant as a sign of support. In fact, Wickrematunge was fond of Rajapaksa when he first took power because of his many promises and commitments to human rights. But they found themselves on opposing sides when the president became involved in scandal, and then enforced media censorship. In Wickrematunge's view, a decade of Rajapaksa's rule had changed the country for the worse and, the journalist wrote, his paper was its largest critic.
"When finally I am killed, it will be the government that kills me," he wrote.
He answered the question he opened the story with—that of his looming murder—by writing that despite its inevitability:
… if we do not speak out now, there will be no one left to speak for those who cannot, whether they be ethnic minorities, the disadvantaged or the persecuted.
The exhumation of Wickrematunge is supposed to settle two differing reports by medical examiners: one that says Wickrematunge died of a gunshot wounds; and a second that makes no mention of bullets. Colleagues have taken the news with skepticism, and don't expect quick results. Wickrematunge's former wife, Raine Wickrematunge, told The Guardian she welcomed a re-examination, and was glad to hear the "process of uncovering the murderers is not happening in a half-hearted manner anymore."
Since the new president, Sirisena, took power, Sri Lanka has worked to correct many of its concerns over its human-rights record. Internet and media censorship has mostly disappeared, and the rampant killings and abduction of journalists has ended. After his death, Wickrematunge's posthumous column found international attention. His writing, in turn, focused that attention on the civil-rights abuses in his country.