There's Nothing Left in the Tank in the Southeast
In Georgia, Tennessee, and North Carolina, drivers are finding it hard to find gasoline following a pipeline rupture in Alabama.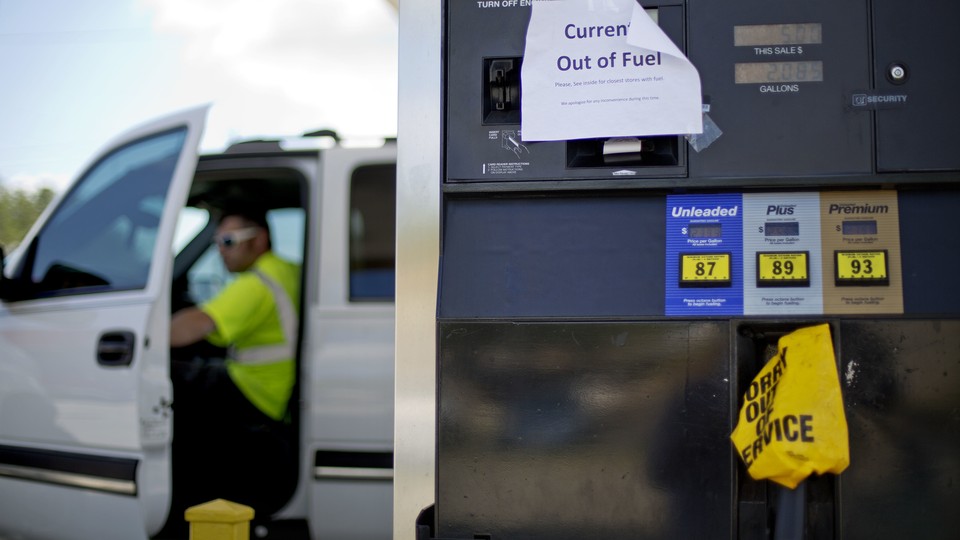 DURHAM, N.C.—The '70s are back in the Southeast.
No, it's not a Republican candidate for president promising law and order. It's not the latest bellbottom revival. It's not even the North Carolina-centered movement of Grateful Dead-inspired musicians.
Instead, drivers across the region are lining up at gas stations, hoping to fill up their cars. A gas shortage began September 9, when a mining inspector noticed a gasoline odor in Shelby County, Alabama. Colonial Pipeline discovered that there was a leak in a line that runs from Houston up to New Jersey. More than 300,000 gallons leaked from the line. Somewhat miraculously, the spill seems to have avoided the worst ecological damage, because much of the gas ended up in a retaining pond.
But while the pipeline is being repaired, there are gas shortages in Alabama, Georgia, Tennessee, and the Carolinas. In Tennessee, Governor Bill Haslam declared a state of emergency on Friday. The governors of Georgia and North Carolina loosened rules on truckers' hours to try to make it easier to move gasoline in. The major effect hasn't been so much on prices, though those are up. In Tennessee, per-gallon prices were going up around 5 cents to 15 cents, though in some cases as much as 30 cents. Prices jumped 31 cents on average in Atlanta. In North Carolina, prices also surged, but the state's anti-gouging law is holding down the increase, as it did in Georgia. What's striking is that even with the spikes, many prices are still below $2.50—the magical, and at the time unthinkable, number below which Newt Gingrich promised to bring prices, when he was running for president in 2012.
The more visible effect has been on availability: As if it were 1973, many gas stations simply don't have gas to pump, at any price.
"People are freaking out," a gas-station employee in Asheville, North Carolina, told the Citizen-Times.
Brett Kern, the Tennessee Titans' punter, told an NPR reporter he nearly ran out of gas before finding a story with supply. "I was 0 for 6 on Saturday, 0 for 3 yesterday, and then I called about four stations this morning," he said. "This was the first one that had it."
On a drive Tuesday morning between Durham and Chapel Hill, North Carolina, your correspondent found that most prices were still between $2.10 and $2.25 per gallon, but several stations had no gas. One BP station changed its sign to read "0.00," not a statement of free gas but an acknowledgement that a motorist couldn't pay for it. Several miles up the road, a small traffic jam surrounded a rare service station that offered fill-ups.
To try to address the shortage, Colonial on Monday began running gasoline through a second, parallel pipe that usually carries diesel and other products. Gasoline was also being moved on tanker ships toward New York. Colonial said Tuesday it had finished repairs and hoped to have the pipeline back on line on Wednesday thanks to a temporary bypass. After that, it will take a few days for the shortage to end, but the lines for gas should be gone again. Now, if only we could get Ted Nugent to go back to the '70s, too.