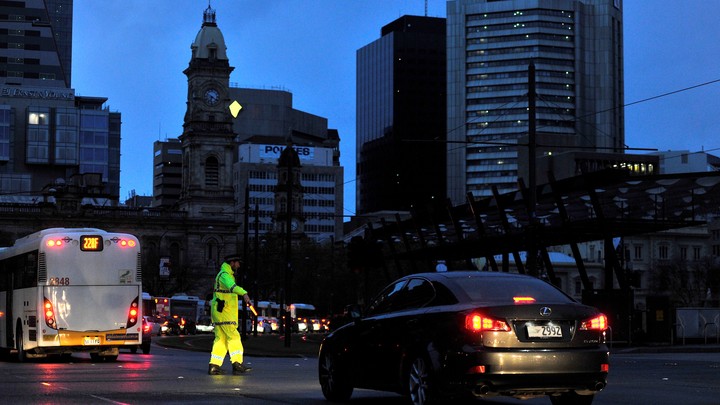 Power was being slowly restored Wednesday in South Australia after a severe weather system knocked out power in the entire state of 1.7 million people.
The outage began at 3:50 p.m. Wednesday after 22 power-transmission lines and 22 towers across the state were knocked out by storms. This caused the entire system to shut down in order to protect itself, shutting down traffic lights, public transit, and other services in the state that's larger in area than Texas in area.
"The system has behaved as it's meant to behave to protect the national energy market," Jay Weatherill, the South Australian premier, said. He said the state was hit by more than 80,000 lightning strikes, many hitting the power infrastructure. There were no deaths or injuries reported.
Adelaide, the state's biggest city where the overwhelming majority of South Australians live, was the worst affected.
Traffic gridlocked in #Adelaide pic.twitter.com/duoDF4tRHZ

— SA SES (@SA_SES) September 28, 2016
The @CityofAdelaide completely dark after a state wide power outage. #AdelaideStorm #sablackout #7News pic.twitter.com/LATakx1N8b

— 7 News Adelaide (@7NewsAdelaide) September 28, 2016
But by late Wednesday evening, SA Power Networks, the utility that earlier urged South Australians to "please brace for extended outages and ensure you conserve mobile device battery," said it was in the process of restoring electricity to parts to the city.
We are in the process of restoring power to parts of the metro area as transmission supplies become avail. More updates to follow.

— SA Power Networks (@SAPowerNetworks) September 28, 2016
Power to the entire state is expected to be restored by early Thursday. Huffington Post Australia reported that the state's "backup base load generators are slowly repowering the system."
Still, the extreme weather isn't going away. The Bureau of Meteorology said the region would continue to be affected Thursday by heavy rains and strong winds.
#BoMSat showing intense low impacting SA. Latest warnings including updated Severe Weather Warning at: https://t.co/5wxFrWeCue pic.twitter.com/mZBK5gWOn4

— BOM South Australia (@BOM_SA) September 28, 2016
South Australia has been governed in recent years by the center-left Labor Party and the government's focus on renewable energy, which accounts for 40 percent of all power generated in the state, is already coming under scrutiny from opposition lawmakers.
"This is a disgrace," Senator Nick Xenophon an independent lawmaker from South Australia told ABC, the Australian broadcaster. "How did this happen? How is an entire state blacked out?"
He added: "We have relied too much on wind rather than baseload renewables, rather than baseload power, including gas which is a fossil fuel but it is 50 per cent cleaner than coal and a good transitional fuel."
Josh Frydenberg, the federal federal energy minister, who's from the center-right Liberal Party, told ABC that he believed that traditional sources of power were more stable.
"That does raise questions for the stability of the system—not just for supply, because when the wind is not blowing and the sun is not shining, electricity is not being generated—but also for the stability of the system because of the frequency that is generated as opposed to base-load power which has historically been more coal and more gas," he said.
But, he added: "So questions are raised by the virtue of the increasing amount of renewables, but it has to be underlined that this was a weather event which led to this occurrence."
He said the cause of the blackout would be investigated.  
We want to hear what you think about this article. Submit a letter to the editor or write to letters@theatlantic.com.