Alex Will Take in Syria's Refugees
U.S. President Obama read a letter sent to him by a 6-year-old boy who wanted to take in a Syrian family.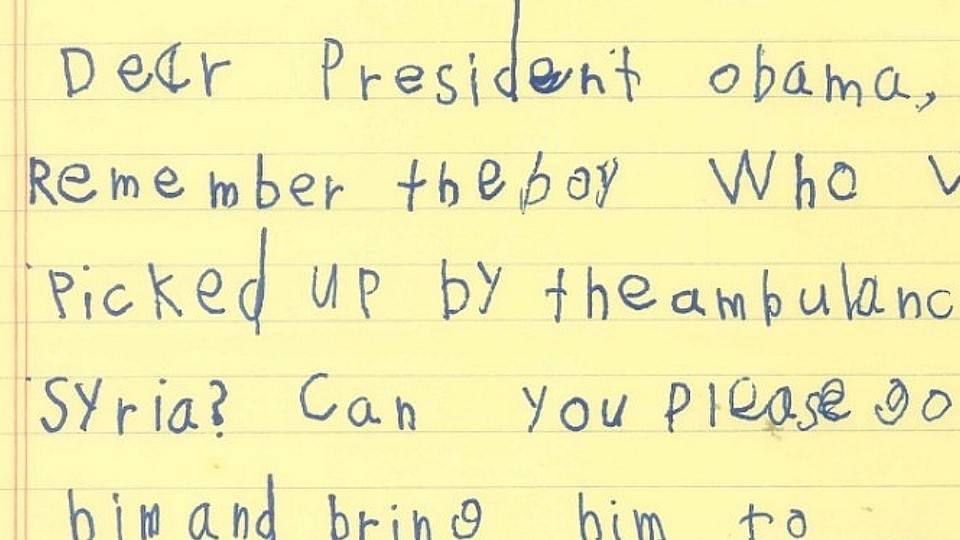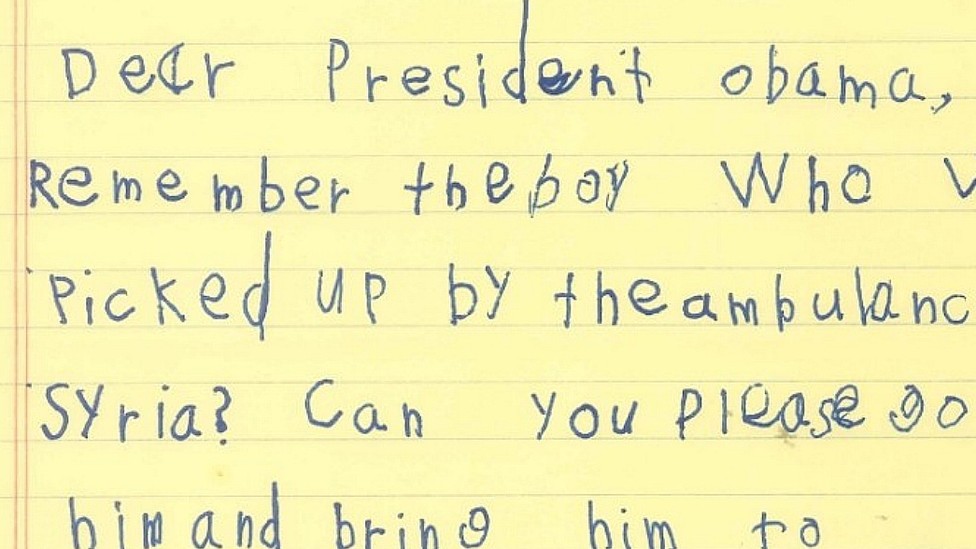 If Texas won't take them, 6-year-old Alex will. Or at least he has offered to take in one Syrian, the child captured in a photograph last month while he sat in the back of an ambulance, his head dusty and bloodied after a bomb hit his family's home.
"Remember the boy who was picked up by the ambulance in Syria?" Alex wrote to U.S. President Obama. "Can you please go get him and bring him to my home?"
Obama read the note earlier this week at the UN Leaders' Summit on Refugees held in New York, and the White House posted it online Wednesday.
Obama, in his speech, chided world leaders for not doing enough to help refugees. He called the global refugee crisis "one of the most urgent tests of our time." About 65 million people are displaced from their homes and most of these people come from countries of great poverty, or as in Syria's case, have experienced prolonged war. Obama commended Germany and Canada as exemplary nations for providing these people support, and announced the U.S. would increase the number of refugees it accepts in 2017 by nearly 60 percent. (The U.S. accepted 10,000 Syrian refugees in 2016 and it accepted 40,000 from around the world this year.)
The issue has political implications. In the U.S., some politicians and states have complained that taking in refugees, especially from Syria, might imperil national safety. They argue federal authorities can't properly screen these people, some of whom could be terrorists.
This how Alex's letter came into the conversation.
"The humanity that a young child can display, who hasn't learned to be cynical, or suspicious, or fearful of other people because of where they're from, or how they look, or how they pray, and who just understands the notion of treating somebody that is like him with compassion, with kindness," Obama said Tuesday, "we can all learn from Alex.
Here's a transcript of Alex's letter:
Dear President Obama,

Remember the boy who was picked up by the ambulance in Syria? Can you please go get him and bring him to [my home]? Park in the driveway or on the street and we will be waiting for you guys with flags, flowers, and balloons. We will give him a family and he will be our brother. Catherine, my little sister, will be collecting butterflies and fireflies for him. In my school, I have a friend from Syria, Omar, and I will introduce him to Omar. We can all play together. We can invite him to birthday parties and he will teach us another language. We can teach him English too, just like my friend Aoto from Japan.

Please tell him that his brother will be Alex who is a very kind boy, just like him. Since he won't bring toys and doesn't have toys Catherine will share her big blue stripy white bunny. And I will share my bike and I will teach him how to ride it. I will teach him additions and subtractions in math. And he [can] smell Catherine's lip gloss penguin which is green. She doesn't let anyone touch it.

Thank you very much! I can't wait for you to come!

Alex

6 years old
And here's a picture of the letter in Alex's handwriting:
The Syrian boy Alex referenced is 5-year-old Omran Daqneesh, who was filmed dazed and bloodied after being pulled from the rubble of his family's home in Aleppo last month. The picture of Daqneesh came to represent the terrifying toll Syria's five-year-long civil war is still exacting on its people.
A day after Obama's speech, Texas Governor Greg Abbot sent a letter to the U.S. Office of Refugee Resettlement notifying it of his intent to withdraw from the resettlement program— unless, the governor said, the federal government could "unconditionally approve" the state's updated plan that would "require national-security officials to ensure that refugees do not pose a security threat to Texas."
As my colleague Matt Ford noted, Texas's withdrawal from the program doesn't mean the state would entirely stop accepting refugees, because the federal government could directly fund nonprofit resettlement agencies.
Here's a video of Alex reading his letter: