The Teenager Who Wounded Singapore's Religious Feelings
Amos Yee, 17, is spending six weeks in prison for his comments on Christianity and Islam.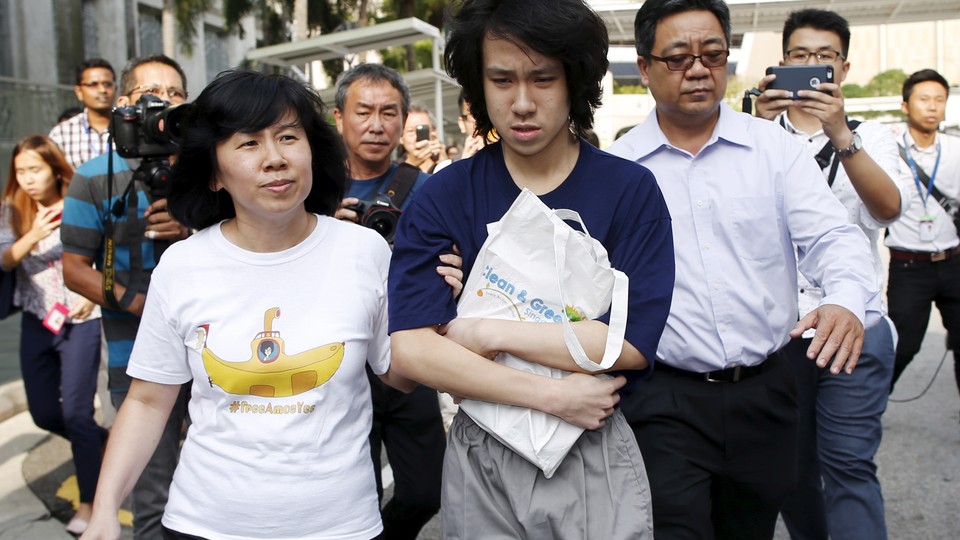 NEWS BRIEF A court in Singapore sentenced 17-year-old blogger Amos Yee to six weeks in prison on Thursday for videos, posts, and pictures he uploaded that criticized Christianity and Islam.
"I am very remorseful," Yee said after he received his sentence, which he called "very fair."
Yee pleaded guilty to all six charges brought against him of "wounding religious feelings," and two charges for failing to show up at a police station when asked. The city-state of Singapore has rules that outlaw speech that may offend a person's race or religion. The comments in question come from videos (like this one) in which Yee says Islam reinforces sexism, and those in another video titled, "Responding To The Common Bullshit of christians."
This is the second time this year year that Yee has served a prison term for his comments, and it has again caused an uproar from human-rights groups and free-speech advocates.
Phil Robertson, deputy director of Human Right Watch's Asia division, told Reuters that "by prosecuting Amos Yee for his comments, no matter how outrageous they may have been, Singapore has unfortunately doubled down on a strategy that clearly violates freedom of expression."
"For a country that prides itself on efficiency," Robertson said, "Singapore should re-examine its approach, because every time the authorities go after him, it just adds to his online audience … ."
Got my sentence for 'intending to wound religious feelings': 38 days of prison. Going in on the 13th of October

— Amos Yee Kuan Yew (@amosyee) September 29, 2016
In July last year, Yee spent 53 days in prison after he posted a YouTube video in which he called Singapore's first Prime Minister, Lee Kuan Yew, a dictator and totalitarian, then compared him with China's former Communist leader Mao Zedong, and to Jesus—though not it a good way. Lee had ruled Singapore for nearly 30 years, and in that time he transformed it into one of the world's wealthiest nations, but one that has little patience for dissent. Yee said that both Jesus and Lee were "power-hungry and malicious, but deceive others into thinking that they are compassionate and kind."
Yee could have been sentenced much more harshly. The law he pleaded guilty to, Section 298 of the Penal Code, carries a sentence of up to three years, and a $1,500 fine.