A Shooting at the Charlotte Police Protest
A man was shot by a fellow civilian Wednesday night while hundreds demonstrated against police violence.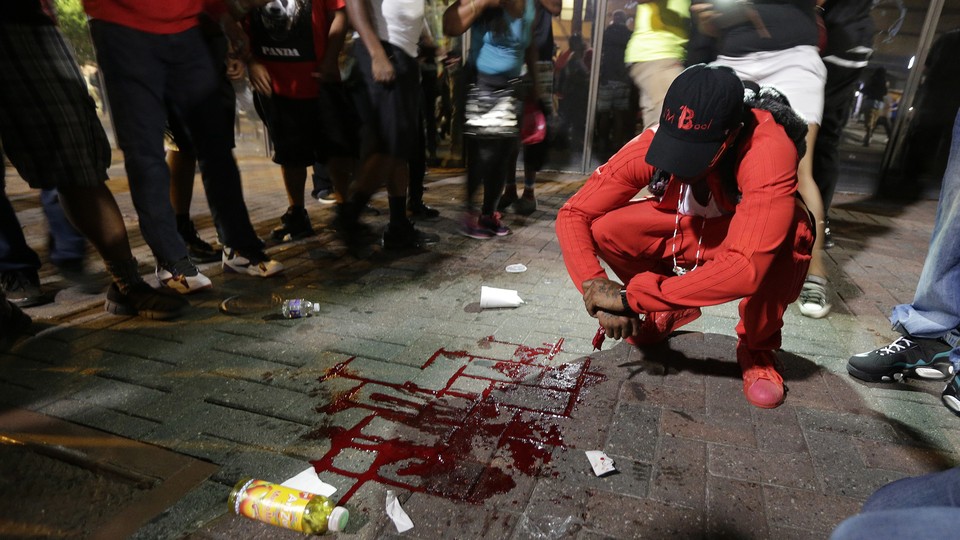 Updated at 11:28 p.m.
NEWS BRIEF A man was shot at a protest in Charlotte on Wednesday night, and is in critical condition. Earlier, the city's police chief erroneously said the man had died. City officials say police were not responsible for this shooting.
On Tuesday, Keith Lamont Scott was shot and killed by a police officer. Kerr Putney, the chief of police, said Scott had a gun in his hand when he was shot. Police had been at the apartment building where the shooting occurred looking for a different man who had an outstanding warrant.
Hundreds of people demonstrated throughout the evening on Wednesday. Police fired tear gas into the crowd, after protesters lit off firecrackers in front of a line of riot police. One local NBC reporter was at the scene:
Protesters also tried to flood a downtown Omni Hotel lobby. Police used tear gas to clear the area, blocking the entrance. Paul Boyd, a local ABC reporter, said on air:
It was so peaceful the start of the night. Unfortunately this night has taken a turn for the worse and it is young.
North Carolina Governor Pat McCrory later declared a state of emergency and will deploy the National Guard and Highway Patrol to help maintain the peace during the protests.
Beginning around 5 p.m., demonstrators marched through the streets, stopping at the Charlotte-Mecklenburg Police headquarters.
Before the protests began on Wednesday, Rakeyia Scott, the wife of Tuesday's shooting victim, said in a statement:
As a family, we respect the rights of those who wish to protest, but we ask that people protest peacefully.  Please do not hurt people or members of law enforcement, damage property or take things that do not belong to you in the name of protesting.
This is the second night of protests in Charlotte. Police had to use tear gas Tuesday night as well, after several hundred people demonstrated near the scene of the shooting.