Shimon Peres's Health
The 93-year-old former Israeli president, who suffered a stroke Tuesday, is responsive, his doctor said.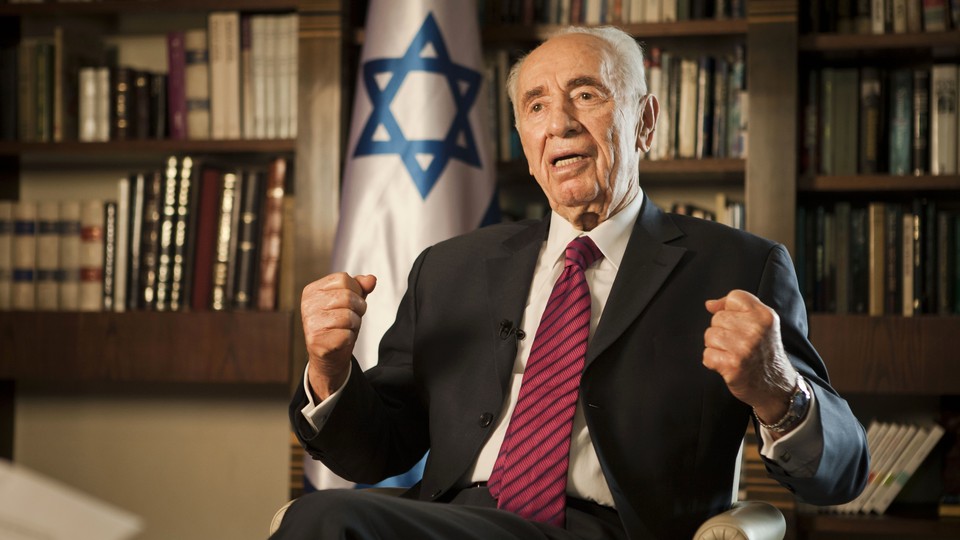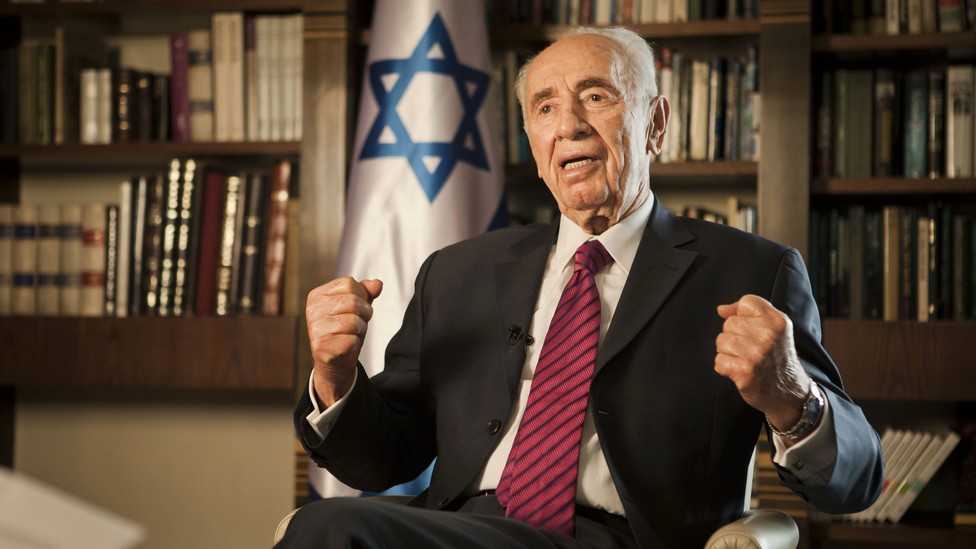 Updated on September 14 at 8:20 a.m. ET
Former Israeli President Shimon Peres is in "critical but stable" condition after suffering a stroke Tuesday, his doctor said Wednesday.
Raphy Walden, who is Peres's personal physician as well as his son in law, said "there was no imminent threat to" the former president's life. Peres's chances of survival, Valden said, are "pretty good."
"I talked to him and asked him to press my hand, and he did so vigorously, and we are definitely convinced that he is awake and listening and reacting," Valden told reporters gathered at the Sheba Medical Center in Tel HaShomer.
That diagnosis is a dramatic turnaround from Tuesday when it was reported that the 93-year-old former president suffered extensive inter-cranial bleeding following a stroke, and his son spoke of making "certain decisions."
---
Updated on September 13 at 4:05 p.m.
NEWS BRIEF Shimon Peres, the former Israeli president, suffered a stroke with significant bleeding and was taken to hospital where he was sedated, the director of the hospital where he is being treated told reporters.
1st official update on Shimon Peres medical condition: "Peres underwent stroke with significant bleeding... currently sedated"

— Anshel Pfeffer (@AnshelPfeffer) September 13, 2016
BREAKING: Hospital director: Israel's Peres suffered stroke 'with lots of bleeding'

— The Associated Press (@AP) September 13, 2016
Chemi Peres, Peres's son, told reporters: "This is a difficult time. We will have to make certain decisions."
Peres was being treated at Sheba Medical Center in Tel HaShomer. Peres's office had initially reported that the 93-year-old former president was conscious and stable, but he has suffered in recent years from ill health. Here's more from the Times of Israel:
Earlier this month, Peres underwent surgery to receive an artificial pacemaker, after he was diagnosed with an abnormal heart rhythm in July following a series of minor health scares.

The implant was recommended by Peres's doctors, including his personal physician, Dr. Raphi Walden, after he was diagnosed in July with atrial fibrillation.

He suffered a mild heart attack in January and underwent a cardiac angioplasty to open a blocked artery. He had been hospitalized twice after suffering chest pains.
The Israeli prime minister's office tweeted that Benjamin Netanyahu "conveyed the prayers of the entire nation for former President Peres' quick recovery."
"PM Netanyahu spoke with the director of the Chaim Sheba Medical Center and was updated on the medical condition of former President Peres," it said.
Peres was born in Poland in 1923 and immigrated with his family in 1932 to what was then Palestine. During Israel's war of independence, he was put in charge by David Ben-Gurion of weapons purchases and military recruitment. Peres was elected to the Knesset in 1959. He was mostly associated with the Labor Party, but over the decades held major positions with all the major centrist and center-left parties in Israeli politics. Peres was known for his relatively dovish stance on the Israeli-Palestinian peace process.
Peres served in almost every major position in Israeli government over his more than six decades in political life: He was prime minister twice, and interim prime minister twice, as well. He was foreign minister in Yitzhak Rabin's government, and his role in the talks that led to the Oslo Accords won him the 1994 Nobel Peace Prize (which he shared with Rabin and Yasser Arafat, the Palestinian leader). Peres became president in 2007 for one seven-year term. He retired in 2014, but has remained an influential figure in Israeli politics.