Shimon Peres, 1923-2016
The former Israeli president died Wednesday at age 93. He'd been hospitalized since September 14 when he suffered a stroke.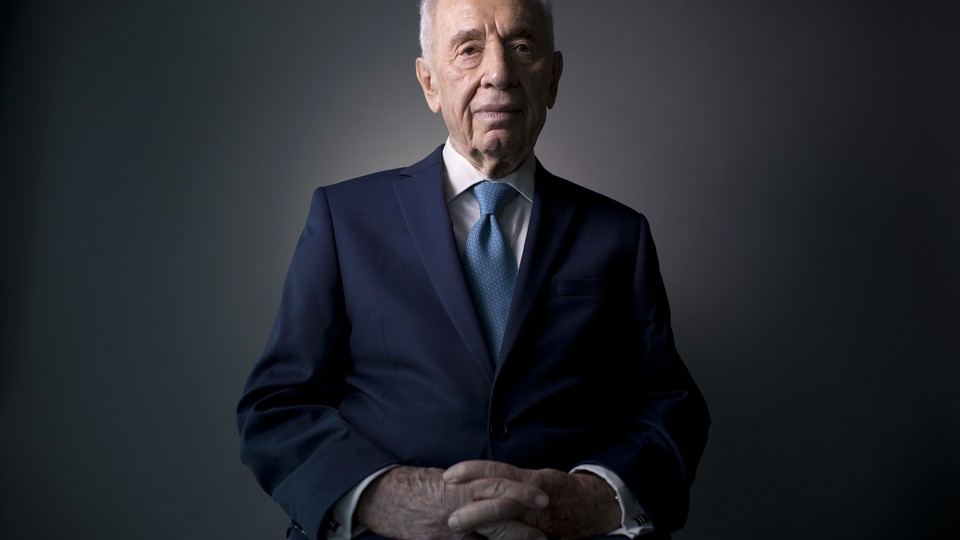 Shimon Peres, an enduring figure of Israeli life and politics who in more than six decades in politics served as both prime minister and president of the Jewish state and, along the way, was awarded the Nobel Prize for Peace, has died. He was 93, and had been hospitalized since suffering a stroke on September 14.
"Shimon devoted his life to our people and the pursuit of peace," Prime Minister Benjamin Netanyahu said. "He set his gaze on the future. He did so much to protect our people."
Born Shimon Persky in what was then Poland, in 1923, Peres immigrated with his family in 1932 to what was then Palestine. Those members of his family who remained behind, including his grandfather, who had urged him to "Be a Jew, forever," were killed in the Holocaust. During Israel's war of independence, Peres was put in charge of weapons purchases and military recruitment by David Ben-Gurion, who would later become prime minister. In 1953, when he was 30, Peres was running the Ministry of Defense, where he laid the groundwork for Israel's nuclear program and is widely regarded as its father.
"My contribution during that dramatic period was something that I still cannot write about openly for reasons of state security," Peres wrote in his 1995 memoir, Battling for Peace. "After [Moshe] Dayan was appointed defense minister, I submitted to him a certain proposal which ... would have deterred the Arabs and prevented the war."
The ambiguity of the words was deliberate, and is a cornerstone of Israeli policy toward its program: The country simply does not acknowledge whether the program exists.
Peres was elected to the Knesset in 1959—where he served for a record 48 years. He was mostly associated with the Labor Party, but over the decades held major positions with all the major centrist and center-left parties in Israeli politics, and became known for his relatively dovish stance on the Israeli-Palestinian peace process.
In his more than six decades in political life, Peres served in almost every major position in Israeli government and in the opposition. Indeed, as Shmuel Rosner noted in The New York Times, Peres was "probably the only leader who could still claim to have known all 21 of Israel's military chiefs personally." And, as Peres told The Washington Post in 2014, he worked with every American president from Harry Truman to Barack Obama—10 in all. Still, electoral victory for Israel's premiership eluded him. In the four elections he contested, Israeli voters either rejected him outright or declined to hand him a decisive mandate to lead the country. He nonetheless did so twice: first in the 1980s as part of a power-sharing agreement with Yitzhak Shamir, and again in the 1990s after a far-right extremist assassinated Yitzhak Rabin, Peres's great rival in Israeli politics, at a peace rally.
He was foreign minister in the Rabin government, and his role in the talks that led to the Oslo Accords won him the 1994 Nobel Peace Prize (which he shared with Rabin and Yasser Arafat, the Palestinian leader). The views of Israelis toward Oslo—and those who signed it—have grown increasingly complicated over the years, with the goodwill generated more than two decades ago now a distant memory replaced by the reality of unrest and the belief, in the view of many Israelis, that they have no partner for peace.
In 2007, the Knesset elevated Peres, by then an 84-year-old elder statesman, to the country's presidency. There, he refashioned the largely ceremonial post into a media-savvy cudgel and quickly became one of the most beloved Israeli public figures. He held prayers for peace alongside Palestinian President Mahmoud Abbas (of whom he said: "We are old and we are friends") and Pope Francis in the picturesque Vatican gardens, championed technology's potential to improve conditions in the Middle East, and challenged Netanyahu, the prime minister, who has shaped modern Israel the way Peres shaped the country at its founding, on his Iran policy. Peres retired in 2014, but remained an influential figure in Israeli politics.
"The meaning in life is not what to be or what to be called, but what to do," he told the Times a week before he stepped down from the presidency. "Maybe the greatest things I did when I had the lowest title, and maybe when you have the highest title you are prisoner."
President Obama, who honored Peres with the Medal of Freedom in 2012, reflected on Peres's legacy, saying in a statement:
A light has gone out, but the hope he gave us will burn forever. Shimon Peres was a soldier for Israel, for the Jewish people, for justice, for peace, and for the belief that we can be true to our best selves—to the very end of our time on Earth, and in the legacy that we leave to others.
Peres is survived by his three children—Tsvia Walden, the linguist; Yoni Peres, a veterinarian; and Nehemia Peres, a venture capitalist. Sonya Gelman, his wife of 65 years, died in 2011.