The Danger of Flying with A Samsung Cellphone
The U.S. Federal Aviation Administration asked passengers to switch off their Samsung Galaxy Note 7 phones while flying because of fire risks. The CPSC asked owners of the phone to stop using it.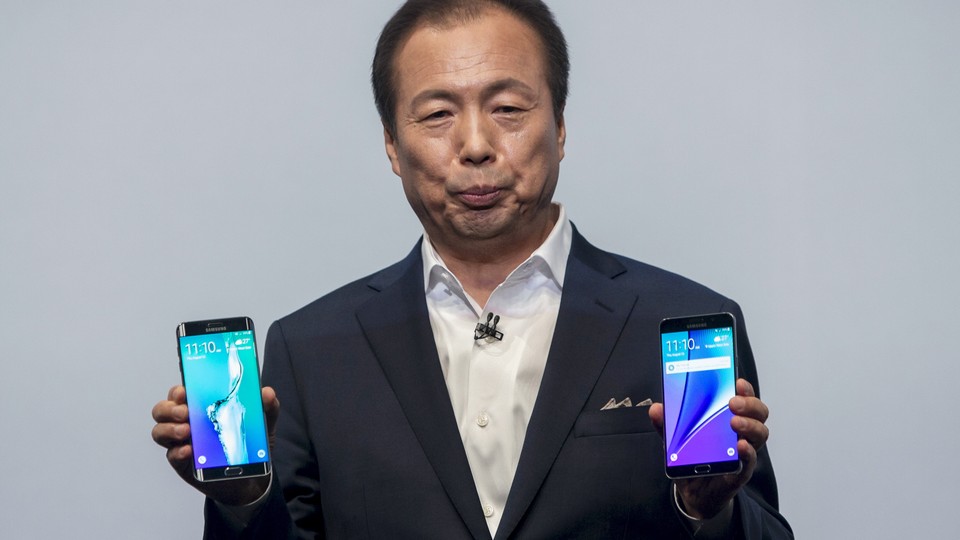 Updated at 4:38 p.m. ET on September 9
Samsung's troubles just got bigger. The U.S. Consumer Product Safety Commission told all owners of the Galaxy Note 7 to stop using the device.
"CPSC and Samsung are working cooperatively to formally announce an official recall of the devices, as soon as possible," the CPSC statement said. "CPSC is working quickly to determine whether a replacement Galaxy Note7 is an acceptable remedy for Samsung or their phone carriers to provide to consumers."
---
9:59 a.m. ET
NEWS BRIEF The Federal Aviation Administration (FAA) took a rare step Thursday and asked passengers who owned a new model of Samsung cellphone to switch it off while they flew because it can catch fire.
It's unusual for the FAA to make such a specific request about a product. Already a few Australian airlines have banned passengers with Samsung Galaxy Note 7 phones from using or charging the devices while flying. The news comes a week after Samsung ordered a recall of about 2.5 million phones after the company's own investigation found credible reports the lithium batteries could overheat and catch fire.
There have been many incidents of the phone melting, even setting fire to whatever it was resting on. Most recently a Florida family said their Galaxy Note 7 exploded and set fire to their Jeep Grand Cherokee. Lithium batteries have a tendency to become much hotter than other batteries, and as the Associated Press adds, the issue is not confined to phones. Everything from personal electronics to Boeing's 787 has had lithium battery troubles:
The AP says:
Rechargeable lithium batteries are more susceptible to overheating than other types of batteries if they are exposed to high temperatures, are damaged or have manufacturing flaws. Once the overheating starts, it can lead to "thermal runaway" in which temperatures continue escalating to very high levels. Water can put out the flames, but doesn't always halt the thermal runaway. Flames will often reappear after initially being quenched.
So far three airline carriers have banned passengers from using the phones on their planes: Virgin Australia, Qantas, and Jetstar. Customers can still bring their phones aboard the plane with them, but they must keep it turned off.
Samsung is the world's largest cellphone supplier, and is based in South Korea. It announced the recall last Friday, saying its battery supplier, Samsung SDI, manufactured the faulty batteries. The recall amounted to about 65 percent of all Galaxy Note 7 phones sold across the world. The recall affected 10 countries, with the major exception of China, where the phones used batteries from a different supplier.