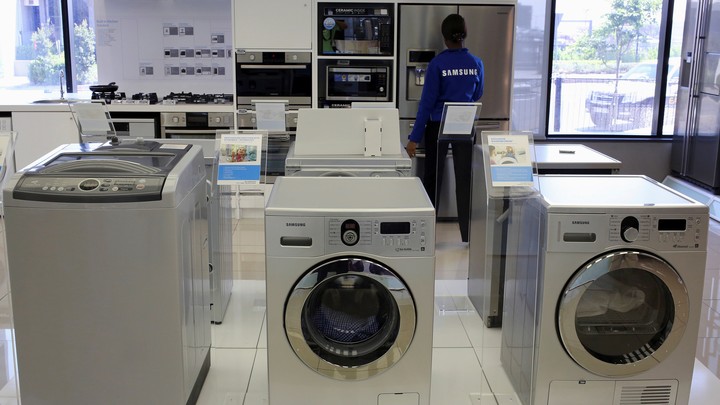 NEWS BRIEF Samsung could soon be forced to recall another product that explodes while in use. The South Korean company said Wednesday it is in talks with the U.S. Consumer Product Safety Commission (CPSC) over claims that some of the company's top-loading washing machines vibrate so vigorously they shake themselves apart and throw plastic and metal pieces into the air.
The company said the affected machines were manufactured between 2011 and 2015, but did not specify the models. The CPSC and Samsung confirmed the they were working together to address the safety concerns in a statement Wednesday. Samsung said:
In rare cases, affected units may experience abnormal vibrations that could pose a risk of personal injury or property damage when washing bedding, bulky or water-resistant items.
This is the second time this year Samsung products have been accused of exploding. Earlier this month, the CPSC ordered a recall of the Galaxy Note 7 cellphone and urged owners to stop using the device because of widespread complaints its lithium ion batteries overheat and catch on fire. One Florida family claimed it set their Jeep aflame. The recall affected 65 percent of Galaxy Note 7 phones sold across the world and amounted to more than 2.5 million devices.
Complaints of the exploding washers first came from a class action lawsuit filed last month. The lawsuit, filed in the U.S. District Court for the District of New Jersey by three customers, alleges the washing machines have a faulty part that lets the spinning tub unfasten during the spin cycle, tearing the machine apart from the inside and hurling plastic and metal bits. The suit claims Samsung has known of the issue for years but chose to ignore it. CNN reported one Texas woman in the suit said her machine burst "with such ferocity that it penetrated the interior wall of her garage."
Samsung said in its statement that hundreds of millions of loads have been washed without incident since 2011. It advised customers concerned about a potentially volatile machine to use the "delicate cycle."
We want to hear what you think about this article. Submit a letter to the editor or write to letters@theatlantic.com.