Ryan Lochte's Suspension From the U.S. National Team
As punishment for apparently fabricating a robbery story at the Rio Olympics, the swimmer forfeits $100,000 and cannot compete for 10 months.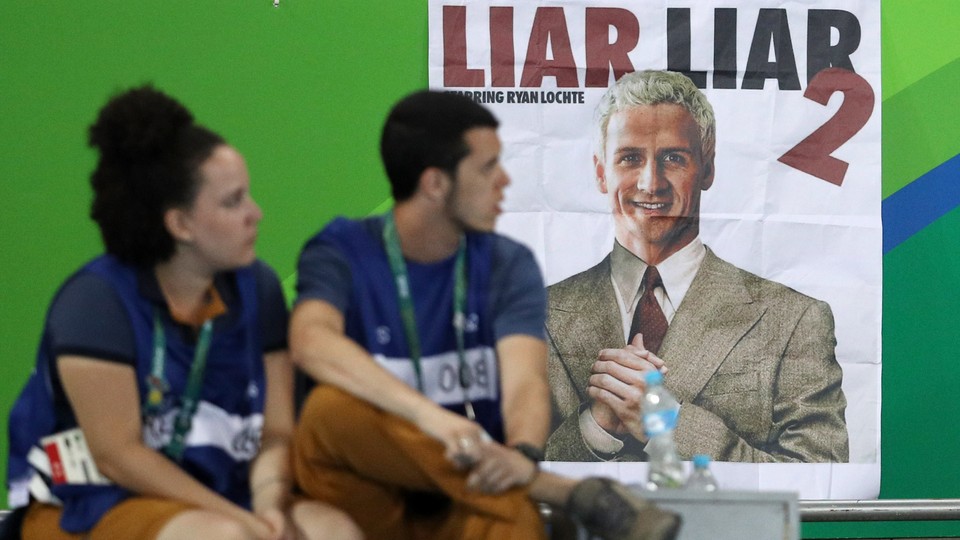 NEWS BRIEF Ryan Lochte, the Olympic gold medalist who apparently fabricated a robbery story to Brazilian authorities, has been suspended from the U.S. national swim team for 10 months.
As a result of his suspension, during which he will not receive a monthly stipend, Lochte will miss the national and world championships next year. He also must forfeit the $100,000 bonus he received for winning medals during the Rio Olympics.
American swimmers Gunnar Bentz, Jack Conger, and James Feigen, who were also involved in the incident in which they claimed to have been robbed at gunpoint, were each suspended four months from the national team. The four men were not robbed, but had actually vandalized a gas-station bathroom; security guards had demanded money from them to pay for the damages.
Scott Blackmun, the U.S. Olympic Committee CEO, called the four athletes' behavior "not acceptable." In a statement Thursday, he said:
It unfairly maligned our hosts and diverted attention away from the historic achievements of Team USA. Each of the athletes has accepted responsibility for his actions and accepted the appropriate sanctions.
Brazilian authorities have demanded that Lochte return to Rio and be charged with providing false testimony, which could result in an 18-month prison sentence.
The 32-year-old swimmer has also lost several endorsement deals as a result of the incident, including from Speedo and Ralph Lauren. He will be a guest of this season of Dancing With the Stars.