The Ambush of Ryan Lochte
In the premiere of Dancing With the Stars, two men ran on stage to protest the swimmer's appearance on the show.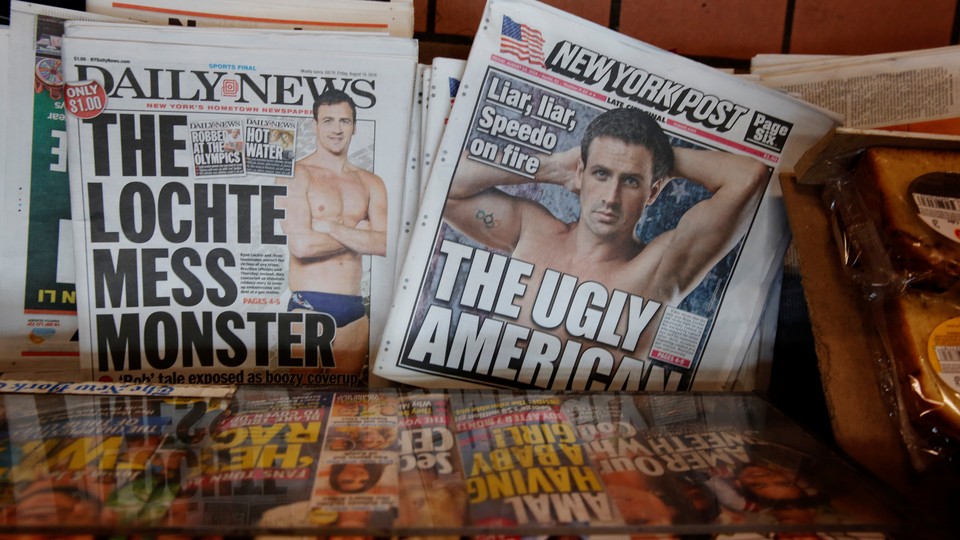 NEWS BRIEF The season premiere of Dancing With the Stars on Monday night had already started poorly for Ryan Lochte, even before two men in T-shirts with anti-Lochte messages ran onto the stage. Lochte and his partner, Cheryl Burke, a professional dancer, had danced a rather stiff foxtrot—one that prompted a judge to say it looked as if Lochte's limbs were not "used to dry land yet."
The premiere was filmed live, and just as judge Carrie Ann Inaba offered her critique of the Olympic swimmer's moves, saying he still had a "long way to go. Swimming is a—hey, excuse me!"
Watching from home, it would have been hard to tell what happened. A head runs by. Then another couple of heads. The camera pauses on Inaba, whose eyes bulge with increasing shock as she repeats, "Excuse me?"
The show's host, Tom Bergeron, calls for a cut to commercial break. When DWTS returned, no one offered an explanation, but it was clear by the pained expression on Lochte's face that something bad had happened. "So many feelings are going through my head right now," he later said.
Thanks to social media, there are plenty of recorded views of those moments between the break.
Two men had rushed the stage in protest of Lochte's appearance. It's not clear what their intention was, other than to cause a spectacle. Both wore white T-shirts with Lochte's name and a "no" symbol crossing it out. Security guards tackled the men to the ground and the crowd booed, then applauded as the protesters were led away. Then a group of women wearing the same shirts stood up and booed. They, too, were escorted away. The men who ran onstage were arrested by the Los Angeles Police Department and charged with suspicion of criminal trespassing.
If Lochte hoped DWTS would be the waters to wash his reputation clean, it was an inauspicious moment. Lochte announced he'd join the show at the end of last month, soon after the controversy at the Rio de Janeiro Olympics. It's no secret DWTS is a type of sequined rehab for C-list celebrities whose reputations have taken a hit, as my colleague Megan Garber explained, and Lochte had hoped he could redeem himself to the public and move past Rio.
At the close of the Olympic Games, Lochte and several other swimmers got into trouble after a night of drinking ended at a gas station. Brazilian authorities said the men vandalized a restroom. Lochte said they were robbed at gunpoint by police. Security footage seemed to contradict the U.S. swimmers' stories, and he and the others were charged with filing a false crime report. In the eyes of many, Lochte looked like he'd fabricated the whole story. He lost his sponsors, including Speedo and Ralph Lauren. He was called the "Lochte Mess Monster" and widely accused of being an entitled "Bro."
Clearly, Lochte sees DWTS as public penance. After the men rushed the stage, he was asked if he expected controversy because of the Rio incident. Lochte said, "I want other people to put it behind them, and I want to move forward. I realize that I made a mistake. I'm human."
But seeing those two men run on stage was like having his heart ripped out and stepped upon, he said. All he could do was look to his dancing partner, Burke, for comfort."'You just danced in front of millions,'" Burke told him, he said.
"I was like, 'Oh, my God! You're right! I did.' So I'm going to keep moving forward and I'm going to keep dancing."