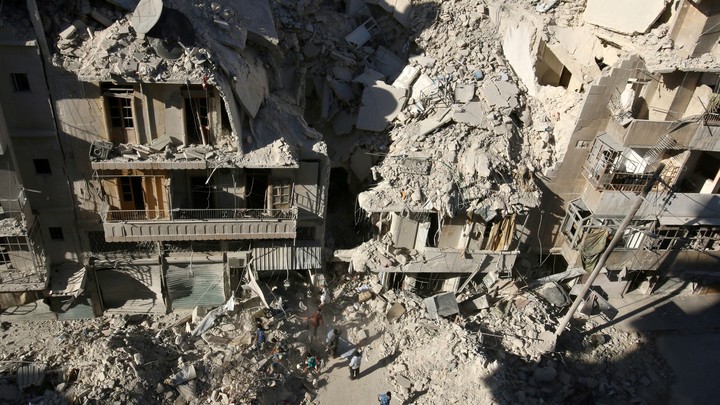 NEWS BRIEF Russia dismissed Thursday a U.S. warning that talks between the two nations over Syria would cease if the bombardment by Russian and Syrian forces on Aleppo persisted, and vowed to continue to support the Syrian government's latest campaign to reclaim the rebel-held areas of the city.  
The rejection marks a significant setback in relations between American and Russian leaders over the Syrian civil war; earlier this month, the two countries negotiated a week-long cease-fire between troops loyal to Syrian President Bashar al-Assad and rebel forces. The agreement collapsed following charges of violations by both sides.
Sergei Ryabkov, Russia's deputy foreign minister, proposed Thursday a "48-hour pause" in fighting to allow humanitarian aid to reach the besieged city, but rejected a longer cease-fire on the grounds it would "ensure that terrorist groups can carry out activities to rearm, rest and regroup," according to Interfax.
John Kerry, the American secretary of state, expressed doubt over whether a diplomatic solution could be reached in the foreseeable future.
"We're on the verge of suspending the discussion," Kerry said Thursday at the Washington Ideas Forum, presented by The Atlantic and the Aspen Institute. "It's irrational in the context of the kind of bombing taking place to be sitting there and trying to take things seriously."
The U.S. threat to dissolve talks with Moscow, issued Wednesday by the State Department, follows intensified air strikes in rebel-held eastern Aleppo that left two of the area's largest hospitals out of service—a significant blow to the besieged part of the city where an estimated 250,000 people and 30 doctors remain. The strikes are part of the Syrian government's latest offensive to one of the last major rebel strongholds in the country, which, if successful, will mark a significant turning point in the country's five-year civil war.
Though Russia reaffirmed its interest to continue talks with the U.S., there remains little motivation for the Assad regime to relent on its campaign to regain full control of Aleppo, which has been divided between government and rebel control since 2012. The Syrian government has managed to retake much of the territory it lost since the civil war first began and, as my colleague Krishnadev Calamur noted,"Assad is now more firmly entrenched as Syria's president than at any time since the civil war began in 2011, and he has little incentive to stop the fighting."
We want to hear what you think about this article. Submit a letter to the editor or write to letters@theatlantic.com.