Roy Moore's 'Suspension From Office'
The Alabama Court of the Judiciary effectively ousted the state's chief justice for a second time on Friday.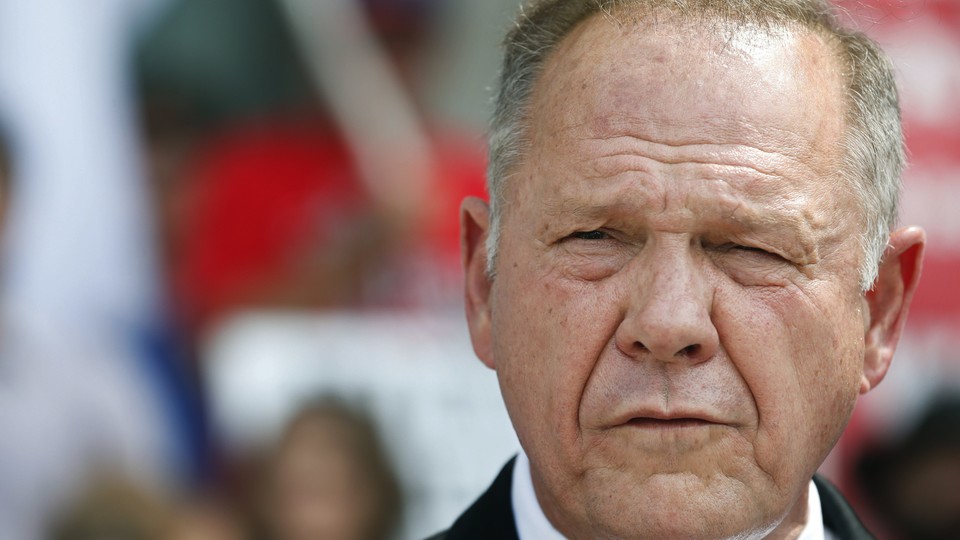 NEWS BRIEF An Alabama court indefinitely suspended Roy Moore, the state's controversial chief justice, from office Friday for ordering probate judges to defy federal court rulings on same-sex marriage bans.
The Alabama Court of the Judiciary found Moore guilty on all six counts filed against him, including failure to "uphold the integrity and independence of the judiciary."
In its ruling, the court said a majority of its judges wanted to remove Moore from office, but that removal requires unanimity among them. His suspension without pay will last for the remainder of his six-year term in office, which ends in 2019.
The legal saga began in January when Moore, an outspoken social conservative, issued an order to Alabama's probate judges instructing them to not issue marriage licenses to same-sex couples. Moore framed his order as an attempt to end "confusion and uncertainty" over the U.S. Supreme Court's ruling in Obergefell v. Hodges seven months earlier, which had struck down same-sex marriage bans nationwide.
But a federal district court had already issued its own order to the state's probate judges, instructing them to not deny marriage licenses to same-sex couples. By contradicting the district court, Moore had effectively ordered the probate judges to defy the federal judiciary.
In May, the Alabama Judicial Inquiry Commission filed six charges against Moore for violating judicial ethics, saying the chief justice had "flagrantly disregarded and abused his authority."
This isn't the first time Moore's defiance has resulted in sanctions. In 2003, a federal judge ordered Moore to remove a two-ton granite monument of the Ten Commandments he had installed in the state supreme-court building. Moore refused, and the Court of the Judiciary removed him from office. Alabamans voted to return him to the chief justiceship in 2012.