The Philippine President's Dwindling Opposition
Senator Leila de Lima led the investigation into Rodrigo Duterte's war on drugs, and on Monday she was removed from the justice committee.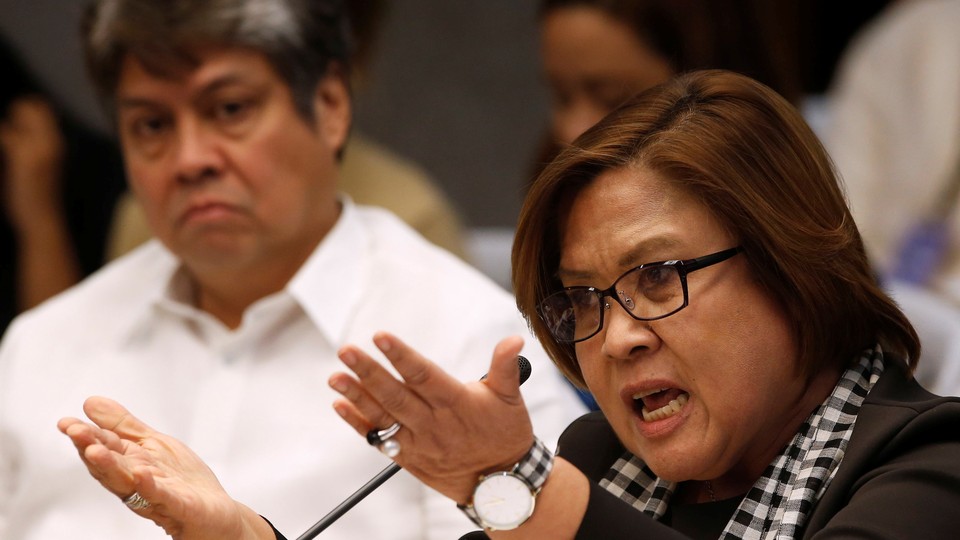 NEWS BRIEF The Philippine politician at the head of an investigation into President Rodrigo Duterte's war on drugs, and who presented a man last week who claimed Duterte ran a hit squad as mayor of Davao city, was removed Monday from her position as head of the Senate's justice committee.
Senator Leila de Lima, Duterte's most vocal critic, has questioned the president's crackdown that resulted in more than 3,500 deaths, many of them caused by vigilantes. Lawmakers' vote to remove de Lima came around the same time Duterte said he would need to extend his war on drugs for another six months, more than doubling his original time-length. "Even if I wanted to, I cannot kill them all," Duterte said of his country's criminals.
On Monday, legislators voted 16 to 4 to unseat de Lima, after Duterte's allies said the witness she brought before the investigatory panel last week had tarnished the country's international image. The motion to remove her was brought by Manny Pacquiao, the senator and boxer.  The vote was called "unprecedented," by the Philippine Daily Inquirer, and gained momentum after a speech by Senator Alan Peter Cayetano, Duterte's close political ally. The Inquirer reported that:
Cayetano, running mate of Mr. Duterte, said De Lima was among those misleading the people and the international media to destroy the image of the chamber as an institution and to distract senators from the much-needed work to be done.

He also said "long-honored traditions of collegiality and civility" among senators were being destroyed, following last week's Senate hearing in which De Lima presented confessed hit man Edgar Matobato who linked the President to Davao Death Squad (DDS) execution of criminals when Mr. Duterte was mayor.
As The Atlantic reported last week,  de Lima's witness tied Duterte to his controversial time as mayor of the southern city of Davao. Duterte reduced crime in the city during the two decades he served as mayor. But rumors—some of which he nurtured by bragging about in the press—of how he accomplished that reduction followed him throughout the election.
Last week, de Lima presented a man named Edgar Matobato, who claimed to have worked as a hitman on the Davao Death Squad. He said orders to kill people came directly from Duterte, that they once fed a man to a crocodile, and they regularly dumped bodies into Manila Bay (one of Duterte's campaign promises). Duterte has often made boastful claims, even bragging about having killed three men accused of kidnapping a girl. But before Matobato testified to the Senate's investigatory panel, Duterte's claims were often written off as hyperbole.
Now that de Lima is off the Senate's justice committee, it's not known what will come of the investigation into thousands of deaths the country has seen since Duterte won the election at the end of June. It's likely the panel will back off; de Lima's replacement, Senator Richard Gordon, is an ally of the president.