Remembering Arnold Palmer
The legendary golfer died Sunday at age 87.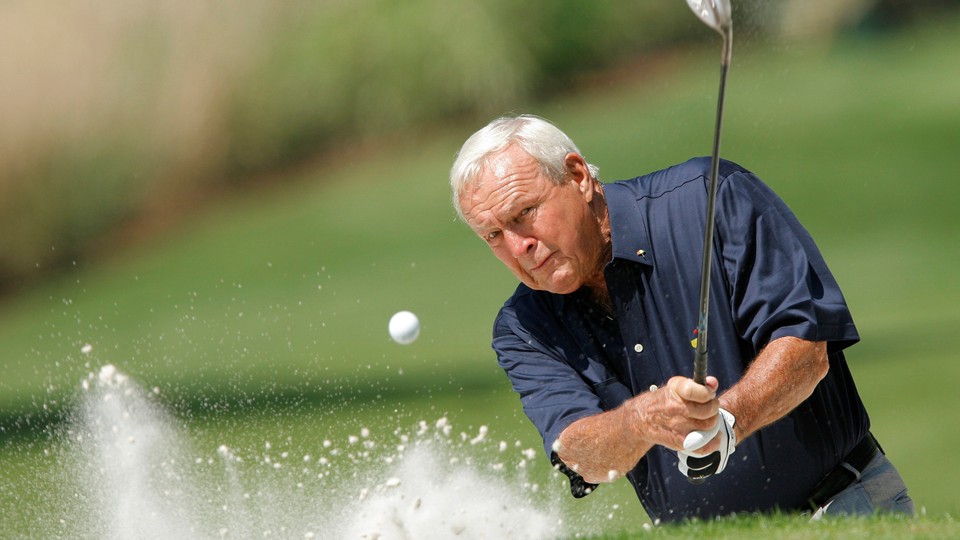 NEWS BRIEF Arnold Palmer, one of the most renowned professional golfers of the 20th century, died on Sunday. He was 87 years old.
Nicknamed "the King," Palmer's exploits on the green in the postwar boom years helped transform golf from a patrician country-club hobby into a mass-marketable sport. Charming and aggressive, his unique play style won him legions of fans, a following he later harnessed to build a small business empire.
The New York Times has more:
From 1958 through 1964, Palmer was the charismatic face of professional golf and one of its dominant players. In those seven seasons, he won seven major titles: four Masters, one United States Open and two British Opens. With 62 victories on the PGA Tour, he ranks fifth, behind Sam Snead, Tiger Woods, Jack Nicklaus and Ben Hogan. He won 93 tournaments worldwide, including the 1954 United States Amateur.

But it was more than his scoring and shotmaking that captivated the sports world. It was how he played. He did not so much navigate a course as attack it. If his swing was not classic, it was ferocious: He seemed to throw all 185 pounds of his muscular 5-foot-10 body at the ball. If he did not win, he at least lost with flair.
In 2004, Palmer received the Presidential Medal of Freedom, the nation's highest civilian honor, for his lifelong devotion to the sport he helped popularize. Congress also awarded him a Congressional Gold Medal in 2009.
"For more than 50 years, over thousands of miles of fairway, and in 92 professional championships, Arnold has given his all, playing with style and a daring that changed the game of golf," President George W. Bush said at the 2004 ceremony. "He drew millions of fans, and every big crowd we see at a golf tournament today started with Arnie's Army."