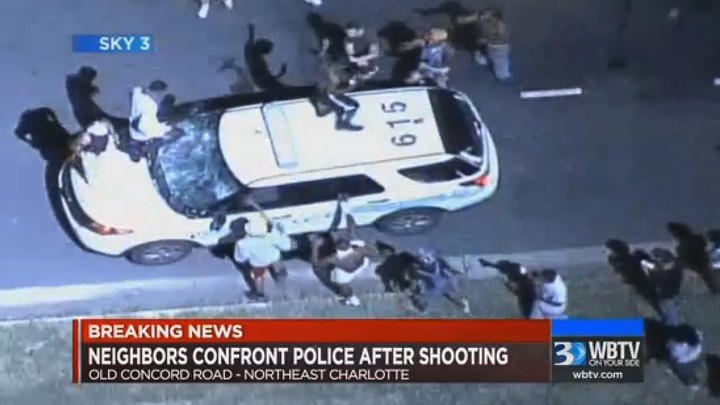 Updated at 12:40 p.m. ET
NEWS BRIEF Charlotte-Mecklenburg's police chief says officers gave Keith Lamont Scott, the 43-year-old black man who was killed by an officer Tuesday, multiple warnings to drop his gun before shooting him.
Scott's family had said he was unarmed, and, in fact, reading a book inside his car when he was shot. But Kerr Putney, the Charlotte-Mecklenburg police chief, said Wednesday officers found a weapon, but no book, at the scene of the shooting. He could not say if Scott had pointed the weapon at officers at the time of the incident. The officer who shot Scott, Brentley Vinson, is also black, and was not wearing a body camera at the time of the incident, Putney said.
"It's time to change the narrative," Putney said. "Because I can tell you from the facts that the story is a little bit different as to how it's been portrayed so far, especially through social media."
Governor Pat McCrory issued a statement in response to the tensions:
McCrory issues statement on Charlotte shooting/protests. #ncpol pic.twitter.com/V9oCk1tVwB

— Colin Campbell (@RaleighReporter) September 21, 2016
The remarks came after overnight protests against Scott's killing turned heated. Twelve officers were injured in skirmishes with the protesters.
Several hundred protesters, outraged by Scott's death, marched Tuesday night and chanted, "Hands up, don't shoot," near the scene of the shooting. Several dozen riot police officers responded to the protests, eventually firing tear gas into the crowd. A local CBS reporter was at the scene:
Here's what it's like inside the crowd at @CMPD Ofr involved fatal shooting @WBTV_News pic.twitter.com/2DqkZXsUNY

— Coleen Harry WBTV (@ColeenHarryWBTV) September 21, 2016
U.S. Attorney General Loretta Lynch said protesters to "remain peaceful in their expressions of protest and concern."
Attorney General Loretta Lynch addresses the recent shootings in Tulsa & Charlotte & urges peaceful protesting. https://t.co/e2NRcf8E6t pic.twitter.com/hQTXdqya2m

— CBS Evening News (@CBSEveningNews) September 21, 2016
At around 4 p.m. Tuesday, police arrived at The Village at College Downs apartment complex, located around a mile away from the University of North Carolina at Charlotte campus. They were in search of a man who had an outstanding warrant. Then, as The Charlotte Observer explains:
They saw a man with a gun leave a vehicle. Police said they approached the man after he got back into the vehicle. The man got out again armed with a firearm "and posed an imminent deadly threat to the officers, who subsequently fired their weapon striking the subject," police said in a statement. "The officers immediately requested Medic and began performing CPR."

Scott was not the person officers were searching for to arrest on the outstanding warrants, CMPD Chief Kerr Putney told reporters at the scene.
Scott was brought to a local hospital, where he was pronounced dead.
After the shooting, a woman who claimed to be Scott's daughter posted a video on Facebook, where she claimed Scott was unarmed when he was shot. She also said Scott is disabled. The video has since been removed from Facebook.
Vinson, the officer who shot Scott, has been placed on administrative leave, which follows the police department's protocol.
This comes just a day after Tulsa police released footage of an officer fatally shooting an unarmed black man who had his hands up. Around 200 protesters gathered outside the Tulsa police headquarters Tuesday afternoon demanding that the officer who killed Terence Crutcher be fired.
We want to hear what you think about this article. Submit a letter to the editor or write to letters@theatlantic.com.