More Attacks on Pakistan's Judiciary
Militants targeted two courthouses in Christian neighborhoods outside the northwestern city of Peshawar, killing 13 people.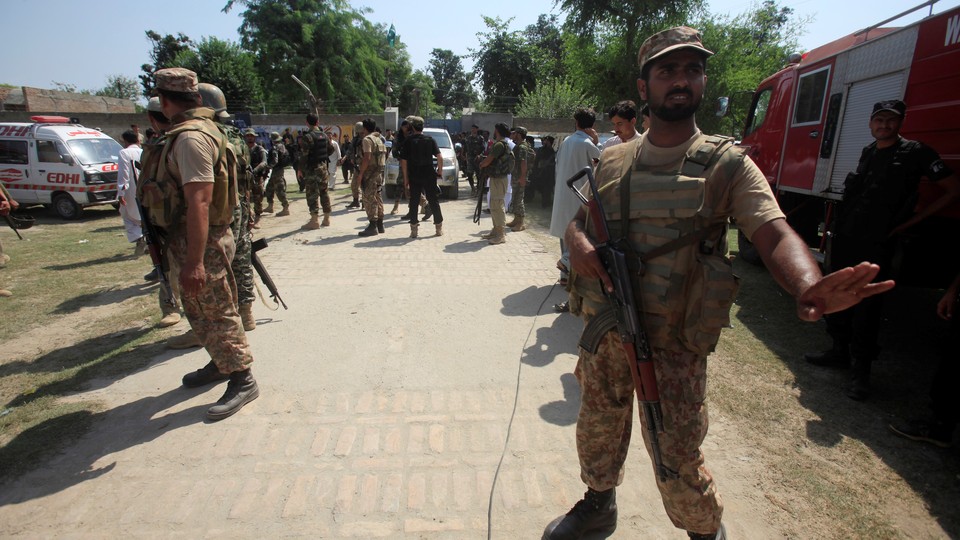 NEWS BRIEF Two separate attacks in northwestern Pakistan killed at least 13 people early Friday and injured more than 50 others. Both attacks involved gunmen with suicide vests who targeted courthouses in a Christian neighborhood near the city of Peshawar, and both were claimed by the same militant group that killed 73 people last month in Quetta.
In the first bombing, four attackers rushed into a Christian neighborhood and shot one person and several security officers. The terrorists tried to reach a local courthouse, but were deterred by the officers, according to the Associated Press. One attacker ran into a church, and it was unclear if explosives were detonated. Not counting the militants, at least one person died in the attack.
The second attack, in the town of Mardan, 25 miles away, was also directed at a courthouse in a Christian neighborhood. Local police told the AP the militant meant to target a meeting of lawyers.
The attacker might have caused more damage, the AP reported, were it not for security officers posted at the courthouse:
A local police official, Ijaz Ahmed Khan, said the attacker apparently wanted to target a gathering of lawyers at the bar room but was thwarted by police. When a policeman asked the attacker to stop, the attacker threw a grenade at him, killing the officer, Khan said. A second policeman then opened fire at the attacker, who detonated his explosives.
Among the at least 12 people killed were four lawyers and three police officers.
The group claiming responsibility is Jamaat-ul-Ahrar, a Taliban splinter group. It's the same group that claimed responsibility for the bombings last month in Quetta, where a group of lawyers who'd come to pay respects to a dead colleague were targeted (though, the Islamic State also took credit for that attack).
In March, a bomber targeted a crowded public park in Lahore and killed more than 70 people, wounding about 200, many of them children. Jamaat-ul-Ahrar also claimed this attack.