Obama on Kaepernick: Sometimes Democracy Is 'Messy'
Women's soccer star Megan Rapinoe also joined the 49ers quarterback's protest, kneeling for the national anthem.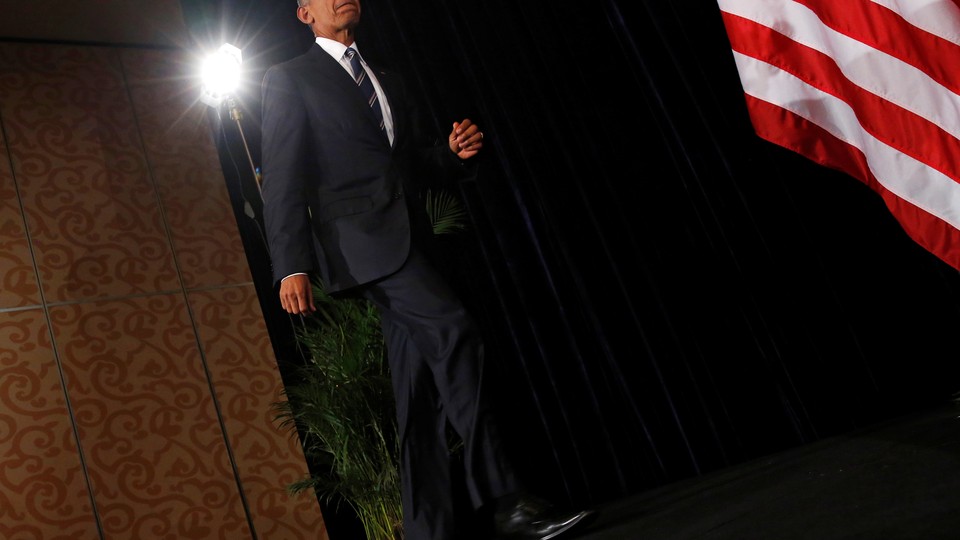 NEWS BRIEF President Obama was in Asia this weekend, focusing on his administration's critical foreign-policy pivot to the continent. So, of course, he was asked about Colin Kaepernick.
The 49ers quarterback has a constitutional right not to stand for the national anthem, Obama said Monday, adding, "Sometimes it's messy, but it's the way democracy works." The president explained why Kaepernick fired so many people up:
As a general matter, when it comes to the flag and the National Anthem, and the meaning that that holds for our men and women in uniform and those who fought for us, that is a tough thing for them to get past to then hear what his deeper concerns are. But I don't doubt his sincerity, based on what I've heard. I think he cares about some real, legitimate issues that have to be talked about. And if nothing else, what he's done is he's generated more conversation around some topics that need to be talked about.
Since he began his protest against racial injustice two weeks ago, Kaepernick has sparked a national debate, not only about police brutality but also about how people should protest. He's also been joined by a couple other football players.
Now, the protest is moving to a different kind of football. Megan Rapinoe, a star on the U.S. Women's National Team, kneeled during the playing of "The Star Spangled Banner" during a National Women's Soccer League game Sunday night between her Seattle Reign and the Chicago Red Stars.
She said she was joining Kaepernick, who she said has been treated in a "disgusting" way, in his protest against racism in American society. She explained to American Soccer Now:
Being a gay American, I know what it means to look at the flag and not have it protect all of your liberties. It was something small that I could do and something that I plan to keep doing in the future and hopefully spark some meaningful conversation around it. It's important to have white people stand in support of people of color on this. We don't need to be the leading voice, of course, but standing in support of them is something that's really powerful.
The World Cup winner said there needs to be a more substantive conversation surrounding race in the United States.