A North Carolina Law Will Soon Limit Who Can View Body-Camera Footage
The law, which goes into effect October 1, follows the release of video in the shooting by police of Keith Lamont Scott.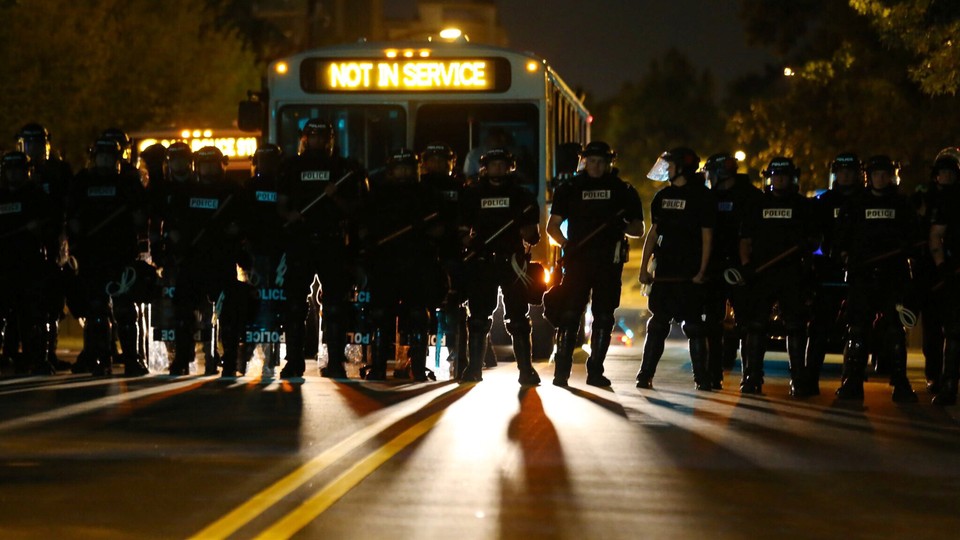 Updated on September 26 at 3:15 p.m. ET
Authorities in Charlotte, North Carolina, lifted a curfew after the third-straight peaceful day of demonstrations against the killing of Keith Lamont Scott, a black man shot last week by police. The marches have been calm since protesters won a victory over the weekend: the release of body-camera footage that showed Scott's death. But it may be the last time this happens in North Carolina, because of a new law that takes effect October 1 that extends police control over the release of body-camera footage and severely restricts who can view it.
The dashboard and body-camera footage released by police, combined with a video shot by Scott's wife, Rakeyia Scott, have done little to answer what happened on September 20 when Scott was shot outside of an apartment complex as he waited for his child to come home from school. Officers were serving an outstanding warrant on another man when they say they found Scott walking to his truck with a gun. Police said Scott refused to put it down despite repeatedly being told to do so. But Scott's family said he was reading a book in his truck. The footage offered few answers.
Last Tuesday, the first night of protests to mark Scott's death, police fought with demonstrators as they marched downtown. Then on Wednesday, a man was shot by another protester during the protests and later died (the alleged shooter was arrested), police fired tear gas at the crowd, and North Carolina Governor Pat McCrory declared a state of emergency. The demonstrators demanded the Charlotte-Mecklenburg Police Department release footage of the shooting. But after police released the tape Saturday, both sides said the footage supported their version of events.
In three versions—two from police, and one from Scott's wife—there's no clear view Scott, or of the gun police say he held.
Here's the police dash-cam footage:
And here's another angle, shot by Rakeyia Scott:
It's unclear, however, if future calls for the release of police footage will be heeded. That's because in June, North Carolina lawmakers overwhelmingly passed House Bill 972, which the governor signed into law the following month after saying dashboard and body-camera footage can "mislead and misinform."
A spokesman from the governor's office said: "North Carolina's new body camera bill sets up for the first time a legal process for the release of law enforcement video. It takes the decision out of the hands of politicians and puts it in the hands of an independent court system, which has been given wide latitude to make its determination."
The new law reclassifies dashboard and body-camera footage as a confidential personnel record, giving access only to those pictured or heard in footage, or their relatives. Starting next month, journalists or members of the public, who can view the footage because at present it's classified as public record, will need a court order to view it.
The law also bars police departments from releasing footage independently, because all requests go through a state superior court judge. It  also gives police departments the right to refuse anyone access to footage if it could damage an officer's reputation, jeopardize someone's safety, or if it could harm an "active or inactive internal or criminal investigation."
Critics say North Carolina's law is at odds with the movement toward body cameras, because the footage is meant to hold police accountable to the public. This was certainly the case in Chicago, with the death of Laquan McDonald, when the government fought for a year to keep the video private, only to have politicians call it "chilling" after its release. That resulted in a murder charge for the officer accused of shooting McDonald.