The Burning of a Muslim Woman on Fifth Avenue
New York City Police are investigating the incident as a possible hate crime.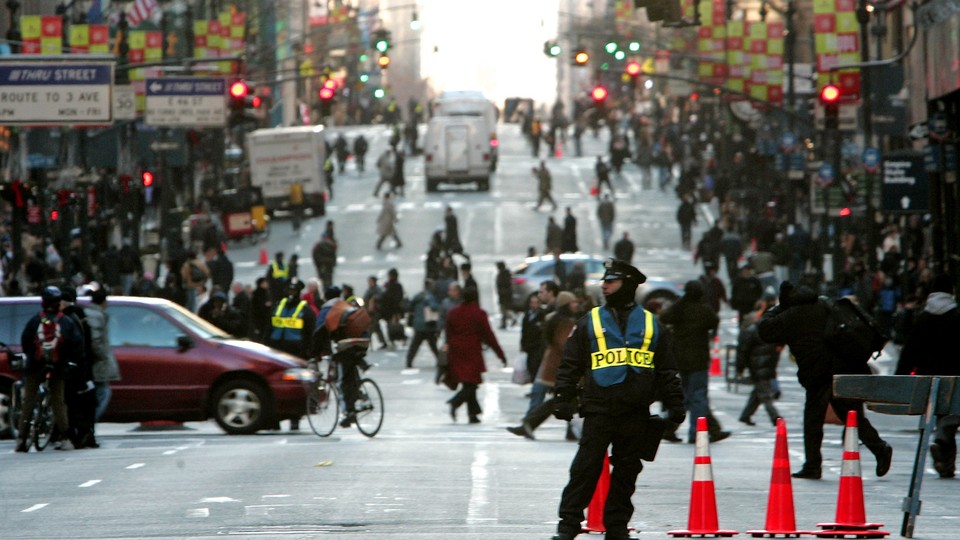 NEWS BRIEF A Muslim woman's clothing was set on fire while she walked down New York City's Fifth Avenue, in what police are investigating as a possible hate crime.
The New York City Police Department released a video Tuesday of a man suspected of setting fire to the woman's blouse as she was near a Valentino store Saturday night on the crowded Manhattan thoroughfare.
News reports cited unnamed police sources as saying the woman was wearing "traditional Muslim garb," though it's unclear if that means she wore a hijab, which covers the head, or an abaya, which covers everything but the face, or a burqa , which conceals the face, as well.
The woman, identified in news reports as a Scottish tourist and by the NYPD as 35 years old, told police she felt something warm on her left arm before she realized her blouse was on fire. After patting out the flame, she said she saw a man holding a lighter. The man then ran away without saying a word.
The New York chapter of the Council on American-Islamic Relations (CAIR) released a statement following the incident, calling on city officials to address attacks against Muslims across the city and nationwide.
"We are clearly seeing a spike in attacks on individual Muslims and Islamic institutions in New York and around the country, which should be of concern to all Americans," said Afaf Nasher, CAIR-NY's executive director. "It is time for the mayor and the NYPD to put forward the necessary resources to investigate and prevent these attacks on the Muslim community."
Saturday night's incident comes just days after two Muslim women were attacked while walking with their children on a Brooklyn sidewalk. The attacker, identified as Emirjeta Xhelili, reportedly punched one of the woman and attempted to remove her hijab while shouting, "get the f--k out of America" and "you don't belong here." Xhelili was charged with two counts of felony assault as a hate crime and two counts of acting in a manner injurious to a child.
Police are also investigating a possible hate crime in Orlando, Florida, where a mosque was set on fire. The incident at the Islamic Center of Fort Pierce, which was previously attended by Pulse Nightclub shooter Omar Mateen, coincided with the start of Eid al-Adha, a four-day Muslim holiday.