Upholding Michigan's Emergency Manager Law
State officials can continue using the controversial power, a federal court rules.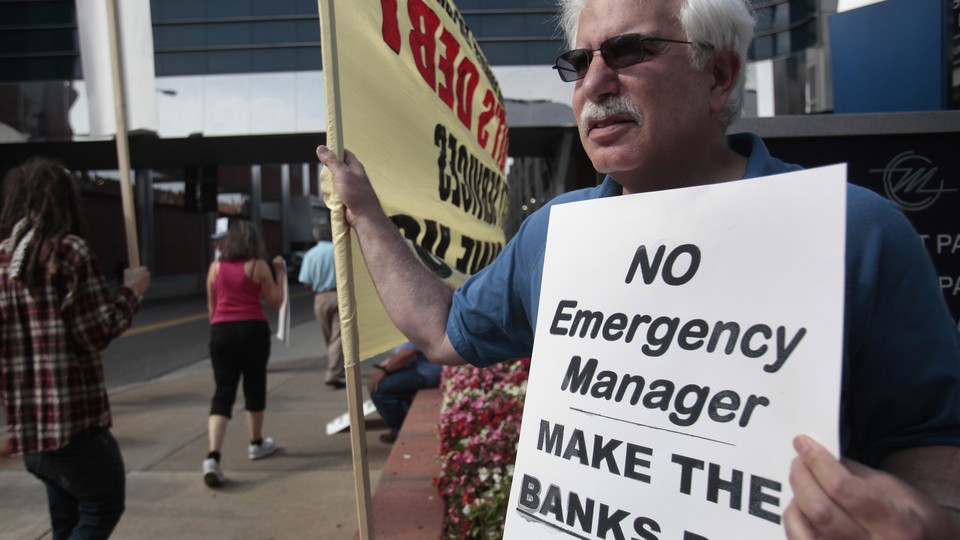 NEWS BRIEF The state of Michigan can continue using emergency managers to solve local financial crises, a federal appeals court ruled Monday.
The court upheld Michigan's law that allows the state to take away local power and appoint emergency managers to serve for 18 months or more. The law was signed by Governor Rick Snyder in 2011 and notably used in Detroit Public Schools and Flint, where thousands of people were poisoned from lead-tainted water. Local NPR affiliate Michigan Radio reports:
Federal appeals court upholds MI emergency manager law; says there's no 'fundamental right' to vote for local officials.

— Rick Pluta (@rickpluta) September 12, 2016
The law has been unpopular in local communities that have been assigned emergency managers. The New York Times highlighted some of that concerned earlier this year:
In Flint, emergency managers not only oversaw the city—effectively seizing legal authority from the mayor and City Council—but also pressed to switch the source of the financially troubled city's water supply to save money.

In Detroit, the schools are on the brink of insolvency after a series of emergency managers dating to 2009 repeatedly failed to grapple with its financial troubles, while also falling short on maintaining school buildings and addressing academic deficiencies. The current emergency manager for the schools, Darnell Earley, previously served in that role in Flint.

Under the administration of Snyder, who has held office since 2011, seven cities or school districts have been declared financial emergencies and placed under appointed management, state officials said. During the eight-year tenure of his predecessor, Jennifer M. Granholm, a Democrat, five cities or school districts were given emergency managers.
Earley stepped down from the Detroit Public School post in February.
A task force in March found that emergency managers appointed in Flint, along with Michigan's Department of Environmental Quality, were the primary culprits for Flint's water crisis. The task force found the state's actions "inappropriate and unacceptable."