Who Shot Down Flight MH17?
The Dutch-led investigating team says the Malaysian Airlines plane was brought down by a missile fired from an area controlled by Russian-backed rebels in Ukraine.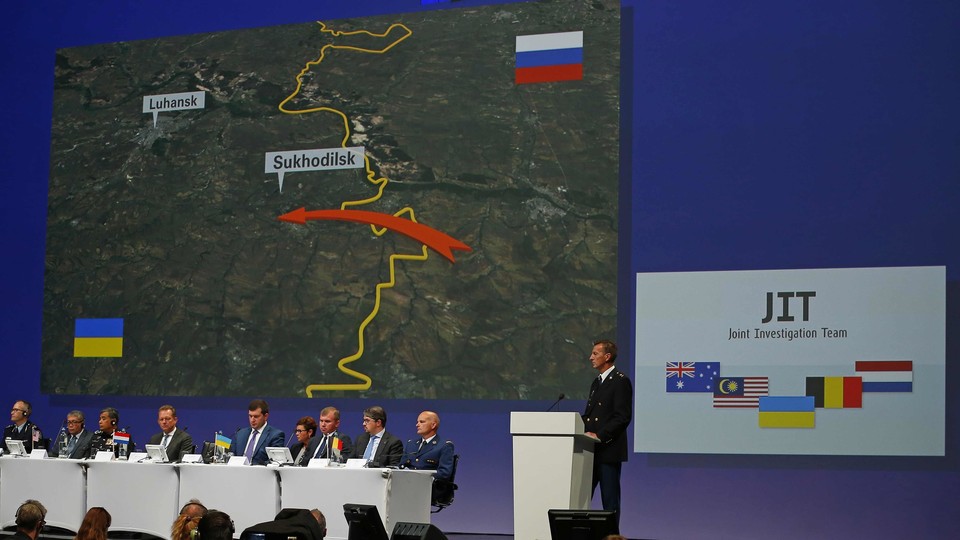 Updated at 8:17 a.m. ET
NEWS BRIEF The Dutch-led team investigating the crash in 2014 of Malaysian Airlines Flight MH17 in eastern Ukraine says the missile that struck the plane was fired from territory held by Russia-backed rebels.
Wilbert Paulissen, a member of the Joint Investigation Team (JIT) said Wednesday that the Russian-made Buk missile that brought down the plane "was brought in from the territory of the Russian Federation, and after launch was subsequently returned to Russian Federation territory."
The missile, he said, had been fired from a field about 3 miles (6 kilometers) from the village of Snizhne, which at the time of the launch "was under the control of pro-Russian fighters," Paulissen said.
MH17, which was traveling from Amsterdam to Kuala Lumpur on July 17, 2014, crashed in rebel-held territory. All 298 people aboard the Boeing 777 were killed.
In October 2015, the Dutch-led Joint Investigating Team said the plane was brought down by a Russian-made Buk surface-to-air missile, but it did not say who fired that missile. In May, the families of the passengers on the plane said they were suing Russia and its president.
Ukraine and Western nations say Russian-backed separatists in Ukraine are responsible for the plane's downing, but Russia accuses Ukrainian forces.
The JIT consists of investigators from the Netherlands, Australia, Belgium, Malaysia, and Ukraine. Although it will not name actual suspects, the team's findings will likely lay the groundwork for a criminal trial in the case. We'll update this story when details of the report become known.