Who Wants to Punch Martin Shkreli in the Face (for Charity)?
The "Pharma Bro" is auctioning off the opportunity to raise money for his former publicist's son, who is recovering from leukemia.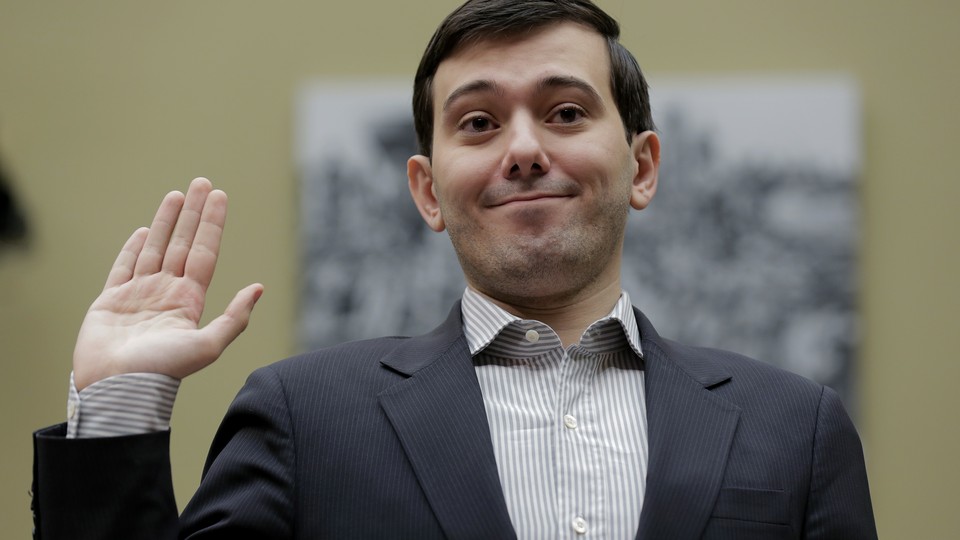 "Pharma bro" Martin Shkreli, the "most hated man in America," the man who raised the price of a life-saving drug 500 percent in a day, who paid $2 million for the sole copy of a new Wu-Tang Clan album and threatened to destroy it so no one could else could listen, is giving the people what they want.
On Tuesday night, Shkreli tweeted that he's raffling off the opportunity for someone to punch or slap him in the face—for a good cause.
If you donate to this site, you are entered into a raffle to slap/punch me. The # of dollars you donate is the # of tickets you get. https://t.co/VRbILlQwh7

— Martin Shkreli (@MartinShkreli) September 28, 2016
Bidding began Monday on eBay, and the bids quickly topped $10,000, but the auction was taken down without explanation. On Tuesday, Shkreli linked to the charity website GiveForward, where money is being raised for Shkreli's former publicist, Mike Kulich, who died in his sleep, according to the donation description. Kulich's son, who is in kindergarten, recently recovered from leukemia.
Shkreli first came into the public eye after he bought a pharmaceutical company and raised the price of Daraprim from $13.50 a pill to $750. The drug has been around for more than 50 years and is used to treat a life-threatening condition called toxoplasmosis caused by a parasitic infection, often contracted by people with HIV or AIDS. Congress called him to testify in February about the price increase, and he mostly smirked at the questions and invoked his Fifth Amendment rights against self-incrimination. Shkreli had previously been arrested by the FBI over accusations he lied to investors in a hedge fund he ran before buying the pharmaceutical company.
Since then, Shkreli has developed an online persona that seems to relish the controversy he creates. Wu-Tang Clan released a single copy of a new album, Once Upon a Time in Shaolin, which the group sold to the highest private bidder, later revealed to be Shkreli, who paid $2 million. The 31-track album came in a wood-carved box along with a leather-bound book of lyrics and song background written on parchment. Shkreli told Bloomberg soon after he bought the record that he hadn't listened to it, then threatened to hide it, or destroy it so no one but him could hear the songs. For that, and for raising drug prices, Wu-Tang Clan member Ghostface Killah called Shkreli a "shithead." Shkreli responded by uploading a video to YouTube in which he told Ghostface Killa that "this album, this Shoalin—I'm gonna erase all your shit from this album. I'm going to erase you from the record books of rap."
That is the man auctioning off a chance to punch him in the face.
One potential bidder asked Shkreli:
Shkreli told bidders they could choose between a punch or slap, or opt for a personal dinner. The charity site has raised $6,770 (at the time of reporting), but Shkreli said he's received direct offers as high as $78,000.