Did Chicago Cops Try to Cover Up the Shooting of Laquan McDonald?
A grand jury will decide whether officers should be charged for lying about the October 2014 death of a 17-year-old.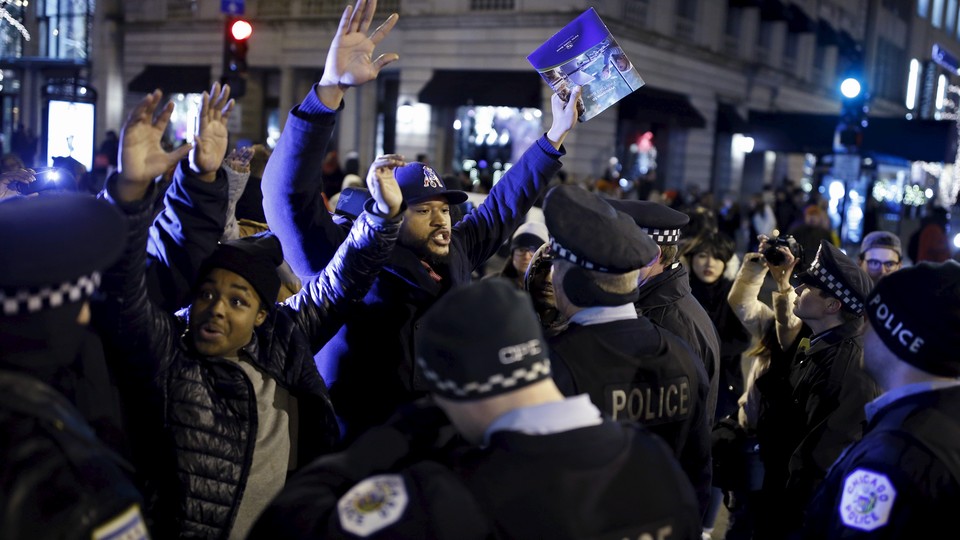 NEWS BRIEF The killing of Laquan McDonald resulted in first-degree murder charges against Jason Van Dyke—the first on-duty Chicago cop to be charged with a homicide in more than 35 years.
Those charges were one of the many results of a video of Van Dyke shooting McDonald, a 17-year-old who was walking away from the officer, in October 2014. The incident revealed deep systemic issues within the Chicago Police force. When officials released the clip, there were days of protests, the police superintendent was fired, and Mayor Rahm Emanuel, on the defensive, agreed to major changes to the department. District Attorney Anita Alvarez, who was seen as dragging her feet, lost a primary in March.
But even with those steps, some important questions about the shooting itself remained unresolved. There were at least another eight officers on the scene, but initial written reports absolved Van Dyke, with police saying that McDonald was shot after he refused to drop the knife and advanced on officers. The video showed that McDonald was walking away. Van Dyke also shot him several times after he had fallen to the ground.
Now Patricia Brown Holmes, a special prosecutor appointed in the McDonald case has asked for a grand jury to investigate whether police officers were involved in a cover-up. The Chicago Tribune reports:
Holmes declined to say Monday how many officers were under criminal investigation, but she emphasized there would be "no rush to judgment."

"We want to make sure that they are treated fairly ... and that we're doing things the way that they ought to be done," she said.
A judge said the grand jury would convene within two weeks. Holmes declined to say how many officers could face charges. In August, Superintendent Eddie Johnson began the process to fire five officers—four patrol officers and one sergeant—whom he accused of lying in the McDonald case.
Holmes said she wanted to have a grand jury investigate rather than decide on charges herself.  "In a decision that's this weighty and important, I think the public would want to have some oversight," she said. "It's fair and it's impartial and it lends credibility to the process."
In fact, grand-jury proceedings are secret, and their track record in recent cases involving police violence is not especially strong. Grand juries declined to indict Officer Darren Wilson, who shot Michael Brown; New York City officers who choked Eric Garner; or Cleveland police officers who killed Tamir Rice. Contrary to Holmes, many advocates say they think grand juries are a poor way to handle police cases, because a grand jury is opaque and easily swayed by a prosecutor. Activists in Minneapolis successfully lobbied the district attorney there to decide whether to charge officers in the November 2015 shooting of Jamar Clarke, instead of taking the case to a grand jury, but were disappointed when he opted not to bring charges.
There's no set timeframe for the grand jury to complete its work. Regardless of what decision it reaches, federal prosecutors and the city inspector general's office are also investigating a potential cover-up. Van Dyke has pleaded not guilty.