The Man Who Pied the Sacramento Mayor
Sean Thompson said the coconut-cream pie was a protest of Kevin Johnson's $556 million basketball arena.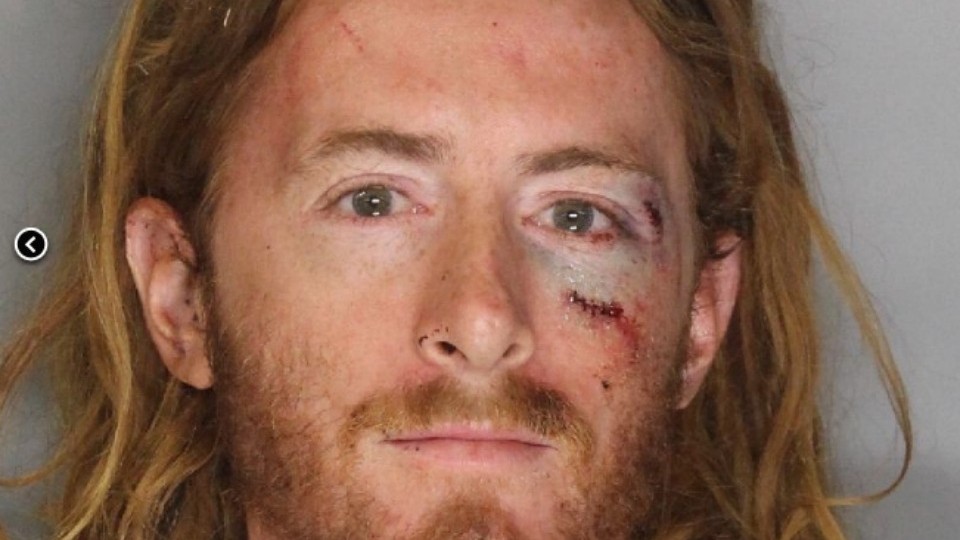 NEWS BRIEF The man who pied Kevin Johnson, the Sacramento mayor, this week says the former NBA star "has to do better to represent the people."
Sean Thompson, a member of the Occupy movement, is being held at the Sacramento County jail on charges of felony assault on a public official, and misdemeanor battery on school property. From behind a glass partition late Thursday, he said Johnson has spent his time in political office focusing on the Golden 1 Center, the Sacramento Kings arena that's expected to cost more than half a billion dollars, instead of projects that can actually help the community. So, Thompson said, Johnson deserved a pie in the face.
The pieing occurred Wednesday night, while Johnson spoke at a farm-to-fork fundraiser for a charter school to a crowd of about 200 people. Thompson walked near the mayor, pulled a coconut-cream pie from a bag, and smacked the pie into Johnson's face. Accounts of Johnson's reaction vary. The East Bay Express reported that Johnson tackled Thompson, then punched him more than half a dozen times until his face looked like a "bloody pulp." But Johnson's Chief of Staff, Crystal Strait, has denied that claim, saying, "He struck back in some way" but this "was not like some bloody punch-fest."
Here's a photo of the scuffle:
In images and video of the interview, Thompson has a swollen black eye and two sets of stitches on his face. Of his politically motivated pieing, he said: "I feel bad that I sent the message to a lot of people of violence and that I sent a message that would scare people, because that wasn't my intention. I still stand by what I did." Thompson said instead of spending $556.6 million on the new arena, Johnson should have collected the money for public schools, community development, or to help the city's homeless. "If he had put the energy into those things that he put into the arena, we would have so few problems left in the city," he said.
And when asked if he'd pie the mayor again, Thompson said: "Absolutely, I'd do it twice."
As The Sacramento Bee pointed out, the Bay Area has a history of political pieing, most notably in 1998, when then-San Francisco Mayor Willie brown "was struck by cherry, pumpkin and tofu pies while giving a speech. Three pie-throwers from the Biotic Baking Brigade were arrested and later sentenced to six months in jail for committing misdemeanor battery. The protesters said they were opposed to police sweeps of the homeless in downtown San Francisco."