Two Glimpses Into Keith Scott's Death
Police in Charlotte, North Carolina, released body-cam and dashboard footage of the 43-year-old black man's final moments.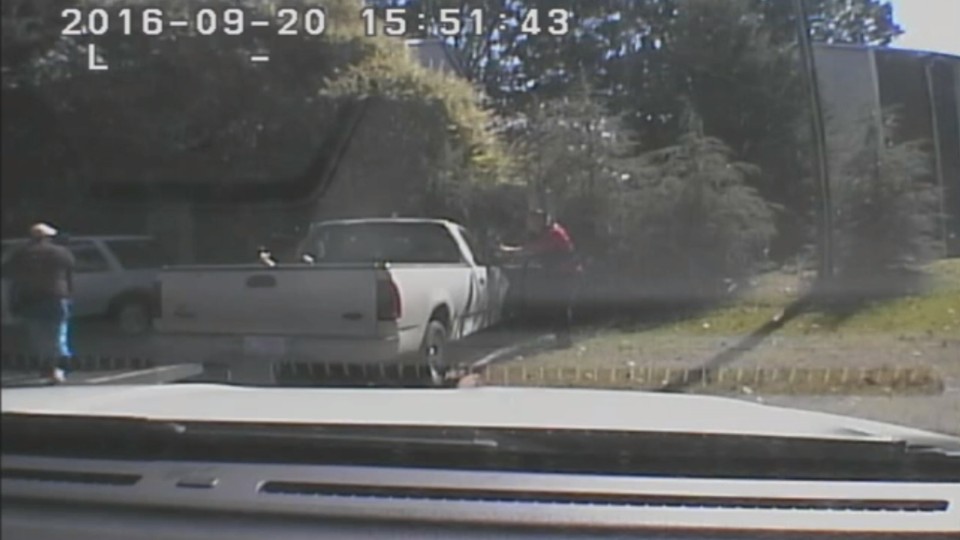 Keith Scott had his hands at his side when a Charlotte, North Carolina, police officer fatally shot him four times, according to footage from a police dashboard camera.
The Charlotte-Mecklenburg Police Department released Saturday clips of body-cam and dashboard footage taken during Scott's shooting Tuesday after days of protests in downtown Charlotte over the killing.
The two clips offer an incomplete glimpse into the encounter. Footage from the body-cam of one of the officers runs a minute long. Scott himself is shown for only a fraction of a second in it. During the shooting itself, the lens is obscured by the officer's neck. The audio is also missing from the first 25 seconds, including when the gunshots are fired.
The footage can be seen below; viewer discretion is recommended.
Footage from the dashboard camera, lasting about two minutes, captures the shooting itself at a distance of a few paces. In it, Scott is seen exiting his vehicle with his hands at his sides and slowly backing away from one of the officers. Suddenly, four shots ring out, and Scott crumples to the pavement.
You can watch the footage below; viewer discretion is recommended since it shows Scott's death.
At a news conference Saturday, Chief Kerr Putney said the officers first approached Scott because they noticed he had marijuana in his truck. Putney also released photos of a gun recovered from the scene and a marijuana joint. The Charlotte Observer has more:
Officers were going to continue on their original mission until an officer spotted a weapon in the vehicle, Putney said.

"It was not lawful for him to possess a firearm," Putney said. "There was a crime he committed and the gun exacerbated the situation."

Officer Brentley Vinson, who fired four shots at Scott, was not wearing a body cam so his visual perspective was not part of the footage. Putney said that body cameras are being rolled out across the department and not all tactical officers have them yet.
It's not clear from the footage whether Scott was holding a gun. Scott's family has claimed he was holding a book instead. As my colleague Krishnadev Calamur noted last week, both the police and Scott's family have different narratives about what happened in those fateful moments on September 20.
Scott's death touched off a week of demonstrations in downtown Charlotte, pitting police in riot gear against angry citizens. During the protests on Wednesday, a civilian shot and killed 26-year-old Justin Carr. Police arrested a man in connection with Carr's death on Friday.