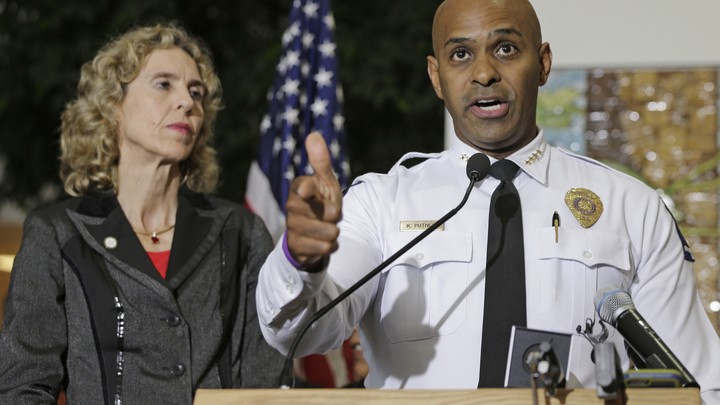 Keith Lamont Scott's wife can be heard pleading to officers not to shoot him and police are heard urging the 43-year-old black man to "drop the gun" in new cell-phone footage of the moments leading up to the fatal shooting on Tuesday.
The footage was captured by Rakeyia Scott, Scott's wife, and shows the events before and immediately after his shooting by an officer from the Charlotte-Mecklenburg Police Department. The footage does not show the actual shooting and it neither contradicts nor bolsters the version of events offered by the police department. It was provided to NBC News, The New York Times, and other organizations by Scott's attorneys.
At one point, Rakeyia Scott can be heard saying: "Don't shoot him. Don't shoot him. He has no weapon. He has no weapon. Don't shoot him." Later, officers can be heard shouting: "Drop the gun." When gunshots are eventually heard, Rakeyia Scott can be heard shouting:
"Fuck. Did you shoot him? Did you shoot him? Did you shoot him? He better not be fucking dead. He better not be fucking dead. I know that fucking much. I know that much. He better not be dead. I'm not going to come near you. I'm going to record, though. I'm not coming near you. I'm going to record, though. He better be alive because … I come. You better be alive. How about that? Yes, we here, over here at 50 ... 50 … 9453 Lexington Court. These are the police officers that shot my husband, and he better live. He better live. Because he didn't do nothing to them."
The officers cannot be clearly heard after this.
You can watch the video below, and though it does not show the actual shooting, it is disturbing.
More from the Times:
The lawyers said the cellphone video was shot by Rakeyia Scott, Mr. Scott's wife on Tuesday afternoon. Mr. Scott had parked his car in a visitor's space in their apartment complex, where he often waited for one of his children to return home on a bus. The police were there to serve a warrant on someone else.

The lawyers said Ms. Scott had come out of the apartment with a cellphone charger for her husband and noticed that police officers were around the truck.
As we have previously reported, the circumstances surrounding Scott's death are unclear—with police and his family offering different versions of what happened.
Police had been at the apartment building where the shooting occurred looking for a different man who had an outstanding warrant. They said Scott was walking from his truck holding a handgun, and did not put the weapon down despite multiple warnings, compelling Officer Brentley Vinson, who is also black, to shoot him. Vinson, in line with department policy, has been placed on paid leave. Scott's family says he was reading a book when he was shot. Police say they recovered a handgun, but no book, from the scene of the killing.
A photograph of that handgun was obtained by WCNC, the local NBC affiliate, soon after the shooting. But the cell-phone footage made public Friday does not appear to show anything resembling that object.
Compare this photo from the newly released video (on right) to photo that came out earlier this week with circled object (on left) pic.twitter.com/ic28gIdZdf

— Justin Green (@JGreenDC) September 23, 2016
Meanwhile, Kerr Putney, Charlotte's police chief, said Friday it was only a matter of time before the police body-cam video of the shooting would be released.
"It's a matter of when and it's a matter of sequence," Putney said. He said the video would be released when the State Bureau of Investigations (SBI) "have all the pieces of the puzzle so that they can then give the fuller picture of exactly what happened."
Putney previously said the footage, which Scott's family viewed on Thursday, would not be made public while the investigation was ongoing. In Thursday's news conference, the police chief said the footage did not offer "absolute definitive, visual evidence" that Scott pointed his weapon at officers, as they had claimed, but "when taken in the totality of all the other evidence, it supports what we've heard and the version of the truth that we gave about the circumstances that happened that led to the death of Mr. Scott."
Scott's death resulted in two consecutive nights of protests, though Thursday night was relatively peaceful. One person, identified as Justin Carr, 26, was killed, and Kerr said Friday that a man, Rayquan Borum, had been arrested in connection with that death.
We want to hear what you think about this article. Submit a letter to the editor or write to letters@theatlantic.com.