Remembering Jose Fernandez
The joyful Miami Marlins pitcher died Sunday in a boating accident. He was 24 years old.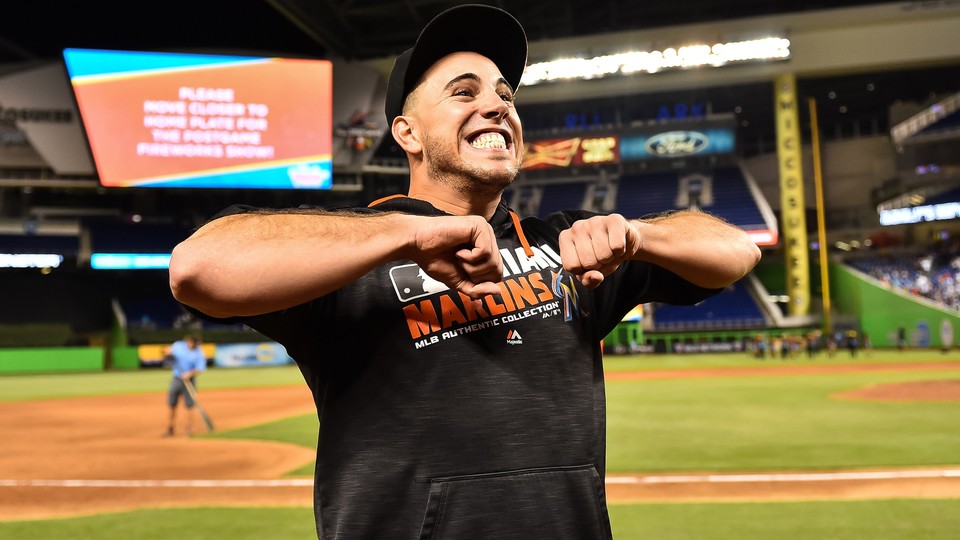 NEWS BRIEF Jose Fernandez, the Miami Marlins pitcher who ranked among Major League Baseball's best, died on Sunday in a boating accident. He was 24 years old.
A U.S. Coast Guard patrol discovered an overturned 33-foot-long boat with the bodies of Fernandez and two others early Sunday morning, the Coast Guard said in a statement.
"All of Baseball is shocked and saddened by the sudden passing of Miami Marlins pitcher Jose Fernandez," Commissioner of Baseball Rob Manfred said in a statement. "He was one of our game's great young stars who made a dramatic impact on and off the field since his debut in 2013. Our thoughts and prayers are with his family, the Miami Marlins organization and all of the people he touched in his life."
A joyous right-hander who quickly became a fan favorite, Fernandez's life story seemed destined for baseball lore. Born in Cuba in 1992, he made three failed efforts as a teenager to cross the 70-mile stretch of water separating him from Florida and freedom. The Cuban government sentenced him to a few months in the country's notorious prisons after one of the attempts when he was 14 years old.
Finally, in 2008, the 15-year-old Fernandez sailed with other attempted defectors from Cuba to Cancun, Mexico. Under U.S. law, Cuban asylum-seekers who set foot on American soil are generally allowed to stay, no matter where they land. Fernandez, along with his mother and sister, then crossed the border into Texas a few days later. He became a U.S. citizen in 2015.
The Marlins selected Fernandez in the first round of the 2011 draft, and he played his first game with the team in 2013. On the field, he soon became one of the best pitchers currently playing the sport. USA Today has more:
Known for his ebullient personality—which could occasionally rankle opponents—and a pitch repertoire that could stagger opponents with both his fastball and a devastating curve, Fernandez was the backbone of the Marlins pitching staff, posting a 2.86 earned-run average. He struck out at least 11 batters in nine of his 29 starts this season.

In the final start of his career, Wednesday night against the Washington Nationals, Fernandez shut out the Washington Nationals over eight innings, striking out 12 in a 1-0 victory. Marlins infielder Martin Prado said Fernandez told teammates he believed it was the greatest start of his career.
In a statement, the Marlins said they were "devastated" by Fernandez's death and that Sunday's game against the Atlanta Braves was cancelled. Their NFL counterpart, the Miami Dolphins, will pay tribute to Fernandez before their game against the Cleveland Browns on Sunday.