An Emotional Send-Off to Jose Fernandez
Wearing his name and number 16, the Miami Marlins saluted their pitcher who died over the weekend.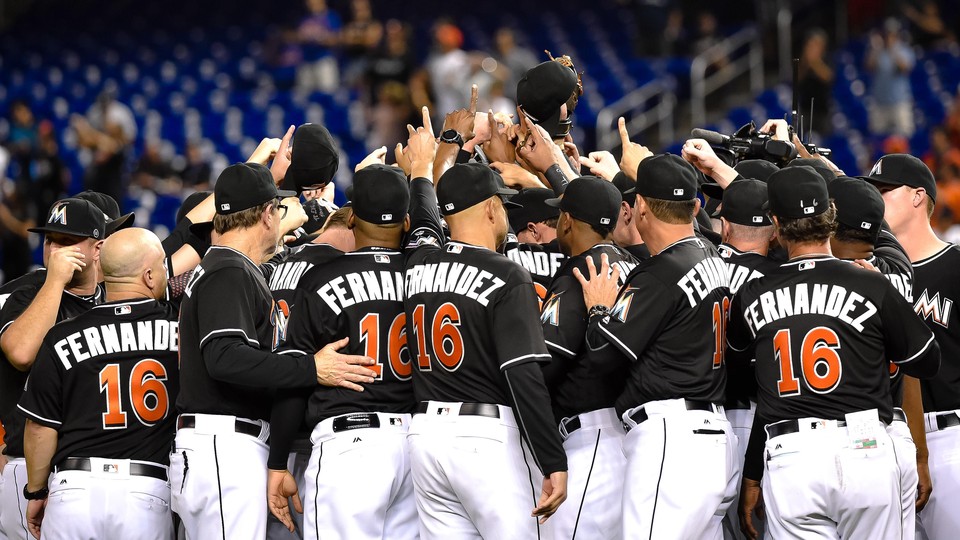 NEWS BRIEF Dee Gordon is not known as a home run hitter. He's only knocked eight out of the park in more than 2,100 career at-bats. But on Monday, with emotions running high following the death of his teammate Jose Fernandez, the Miami Marlins second baseman hit a homer to lead off the game.
As Gordon rounded third base on the way to home, he was overcome with emotion, bursting into tears as he headed to the Marlins dugout. The bench greeted him with equal emotion.
The Marlins honored Fernandez, a 24-year-old star pitcher who died Sunday in a boating accident, by all wearing his name and number 16 on their jerseys. Before the opening pitch, the team gathered at the pitching mound, knelt, and had a moment of silence.
Fernandez was supposed to take the mound on Monday night.
Two others died in the boat accident in Miami Harbor. Fernandez was known for being one of professional baseball's brightest young athletes—energetic and talented, representing the best of the game. On Sunday, teams across the league honored his memory.
The Marlins went on to win Monday night, beating the New York Mets 7-3.