The 12-Year-Old Freshman at Cornell
Jeremy Shuler was reading in two languages at age 2.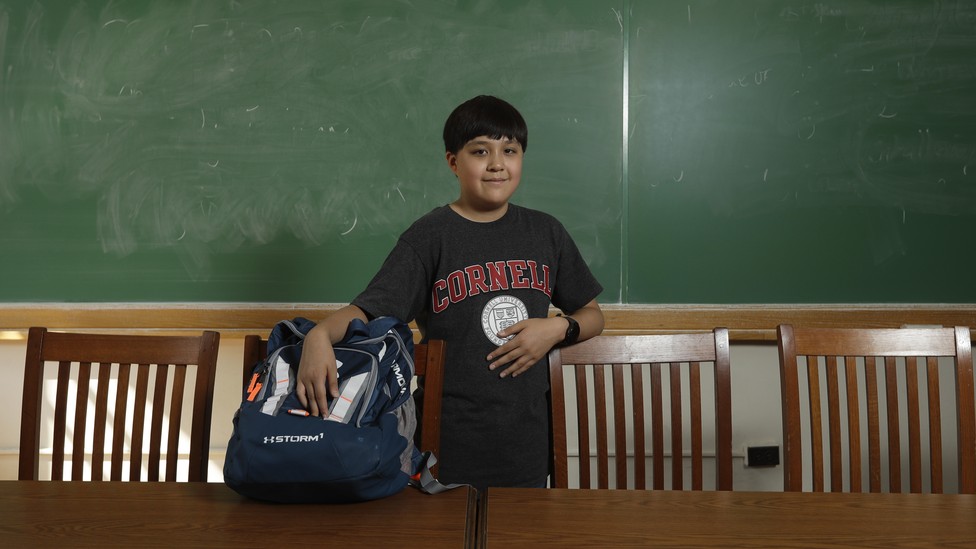 NEWS BRIEF Jeremy Schuler, a 12-year-old boy from Texas, just began his freshman year at Cornell University's engineering school.
The prodigious youngster, who's been covered in national and local news, has been reading in English and Korean since age 2, taught himself chemistry by age 11, and earned his high-school diploma from a special online program called the Texas Tech University Independent School District (TTUISD) "that allows K-12 students to earn credits at their own pace," according to a story about Schuler on the program's website.
Jeremy's mother, who grew up in Seoul, and his father are both aerospace engineers, and they've opted to homeschool their son for his entire academic life.
"Early on we realized Jeremy wasn't really ordinary," said his mother, Harrey Schuler, who put her career on hold to focus on her son's education. "We briefly considered sending him to a charter school or a school for the gifted and talented, but in the end there wasn't much of a choice because he was way too advanced to be enrolled in any traditional schools. So I quit my career to dedicate my time to teaching Jeremy myself. I have been homeschooling him ever since."
Now, though, Jeremy needs more strenuous academic challenges. He applied to colleges in the fall of 2015, was accepted to Cornell Engineering in March of this year, and just recently began his coursework.
"The classes are kind of easy so far," Jeremy said, according to the Associated Press. "But I know they'll be harder pretty soon."
He's also ready for the challenges of adjusting to college life. Unlike a typical college freshman, Jeremy lives with his parents—the family moved to Ithaca, New York, and his father works at the Lockheed Martin branch near there—but his pre-college concerns were the same as every incoming freshman: making friends, fitting in, finding his way around campus.
"I was nervous at first, but I'm a lot more excited than nervous now," he told the AP. "As Mommy said, all the kids in math camp were older than me, so I'm used to having older friends. As long as they like math."
He also said, according to the TTUISD story, "Cornell will be different, though, especially in the first few weeks as I'll need help to navigate campus and get used to life at school because I've been homeschooled my whole life."
For its part, Cornell is happy to welcome Jeremy as a student.
"It's risky to extrapolate, but if you look at his trajectory and he stays on course, one day he'll solve some problem we haven't even conceived of,"  Lance Collins, the Cornell Engineering dean, said to the AP. "That's pretty exciting."