Islam Karimov's Legacy
The Uzbek leader, who is reported to have died Friday, had ruled his country with an iron fist since 1991.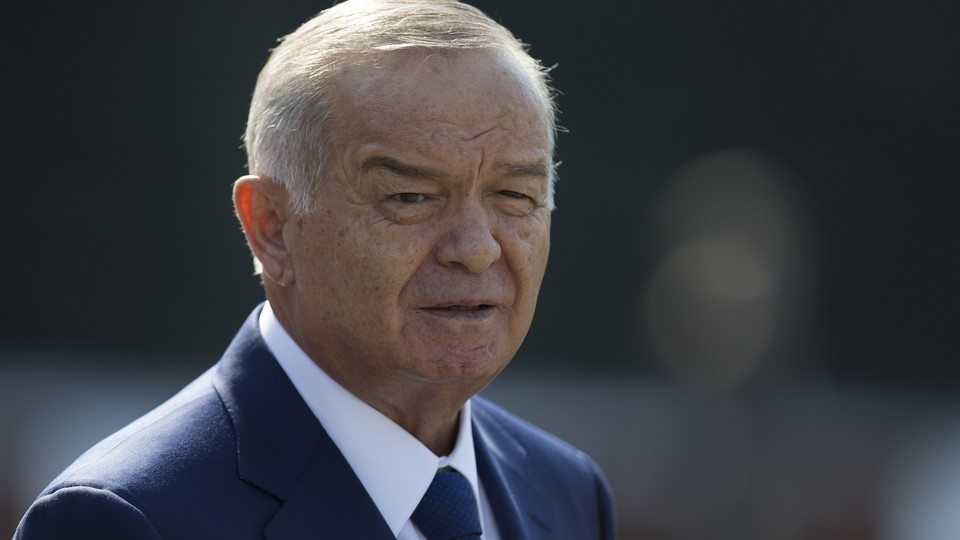 Islam Karimov, the former Uzbek Communist Party boss who became president in 1991 upon the demise of the Soviet Union, and who ruled his country with an iron grip, alternately befriending, and falling out with, the West and Russia, is reported to have died. He was 78.
News of his death Friday came from Turkey's prime minister as well as various diplomatic sources cited by Western news organizations, and it comes just one day after the country celebrated the 25th anniversary of its independence. The Uzbek government confirmed his death late Friday. Reports of Karimov's condition emerged this week when Lola Karimova-Tillyaeva, his daughter, announced that he had suffered a hemorrhagic stroke over the weekend. That announcement, a rarity from a regime that prided itself on its secrecy, fueled speculation that Karimov had either died or was close to death.
His reported death raises questions about what's next for the resource-rich Central Asian country of 28 million that has known just one leader since independence in 1991. Karimov, born in 1938 and raised in a state-run orphanage, dominated Uzbek politics even as part of the Soviet Union, rising to become a member of the Soviet Politburo as well as the head of the Uzbek Communist Party in 1989. The elections he won, many unopposed, were dismissed as fraudulent both by the Uzbek opposition as well as human-rights groups. Karimov's daughters, Gulnara Karimova and Karimova-Tillyaeva, were once thought of as potential successors, but amid reports in 2013 of a power and family struggle (Karimova reportedly accused her mother and sister of sorcery and compared her father to Stalin), as well as money-laundering investigations, Gulnara Karimova was reportedly placed under house arrest. Her sister, however, is a senior Uzbek diplomat and is still seen as someone who could be Uzbekistan's next leader.
Karimov brutally suppressed any signs of what he regarded as militant Islam in the overwhelmingly Muslim country, once saying (in 1996) that Islamists "must be shot in the head." Indeed, after the attacks of September 11, 2001, Uzbekistan, which for centuries had thrived as a crossroads between Europe and Asia in the old Silk Road, became a significant geopolitical player once again. Karimov allowed the U.S. to operate a military base in the country, which shares a land border with Afghanistan. But critics contended that the Uzbek leader used the fight against radical Islam as a cover for tightening his grip on power and cracking down on any dissent, including through torture. The most famous of these crackdowns came in 2005 in the the town of Andijan where Uzbek troops killed more than 700 people. Karimov's government contended that those killed were members of the outlawed Islamic Movement of Uzbekistan, an al-Qaeda-linked group, but human-rights groups and witnesses said those killed were members of a popular uprising against the government.
The U.S. and the European Union criticized the actions and immediately imposed sanctions. In response, Karimov shutdown the U.S. airbase and looked to Russia for support. The West eventually relented and Karimov opened Uzbekistan up once again as a major transit route to Afghanistan. Indeed, much of Karimov's legacy was to keep his country independent of both West and Moscow, extending an olive branch only when it was convenient to him. "Do not interfere in our affairs under the pretext of furthering freedom and democracy," he said in 2006, according to Reuters. "Do not ... tell us what to do, whom to befriend and how to orient ourselves."