Exporting a Controversial War on Drugs to Indonesia
The country's anti-narcotics chief says he would like to copy the war on drugs in the Philippines, which has killed about 2,400 people in two months.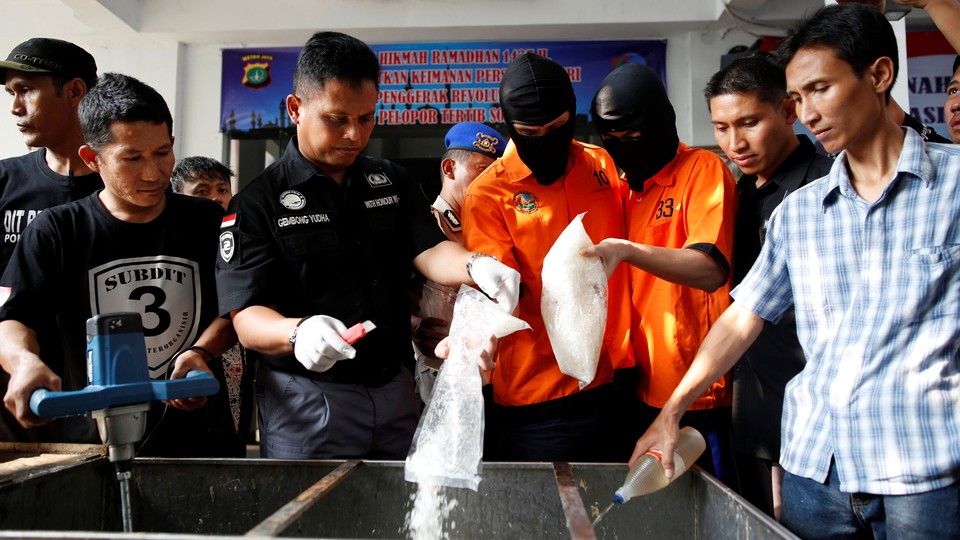 Updated on September 7 at 12:40 p.m. ET
NEWS BRIEF More than 2,400 people have been killed in the Philippines since the new president began his war on drugs—many in extra-judicial killings that have been criticized by human-rights activists. But on Tuesday, the head of the anti-narcotics unit in neighboring Indonesia said he'd like to replicate the Philippines's policy in his own country.
Budi Waseso said Indonesia has already begun to add heavy weapons, drug-sniffing dogs, and police personnel to carry out a crackdown. Waseso, like Philippines President Rodrigo Duterte, is known for his controversial remarks; last year he said he'd like to jail drug traffickers on an island prison surrounded by crocodiles.
"The life of a dealer is meaningless," Waseso said Tuesday, because a dealer "carries out mass murder. How can we respect that?"
On Wednesday, Agence France-Presse quoted a spokesman from the Indonesian anti-narcotics unit who tried to soften Waseso's words:
Agency spokesman Slamet Pribadi sought Wednesday to play down the comments, saying a Philippines-style policy would only be followed "if our law makes it possible," adding: "We can't shoot criminals just like that, we have to follow the rules."

But he acknowledged that Waseso was "strict" and had told staff members that "we should not keep our guns in a safe, we must use them — but only for law enforcement."
Indonesia already has some of the harshest penalties for drug traffickers. In April 2015, it executed eight people convicted of drug smuggling, including seven foreign citizens, two of them Australian. The executions prompted Australia to recall its ambassador. In July, Indonesia executed another four people convicted of drug crimes, three of them Nigerians.
Duterte's approach in the Philippines has drawn criticism from the international community. Earlier this week, a reporter asked him what he would say to U.S. President Obama at a scheduled meeting in Laos if questioned about his methods. Duterte's response: "Son of a bitch, I will swear at you." The U.S. had canceled the proposed meeting, but on Wednesday the Philippines Foreign Secretary confirmed with the Associated Press that the two leaders talked informally; although, there was no information on what they talked about.