India's 'Surgical Strikes' in Pakistan-Controlled Kashmir
The country's military said "significant casualties" were inflicted on militants as well as those who support them. Pakistan denies any such operation took place.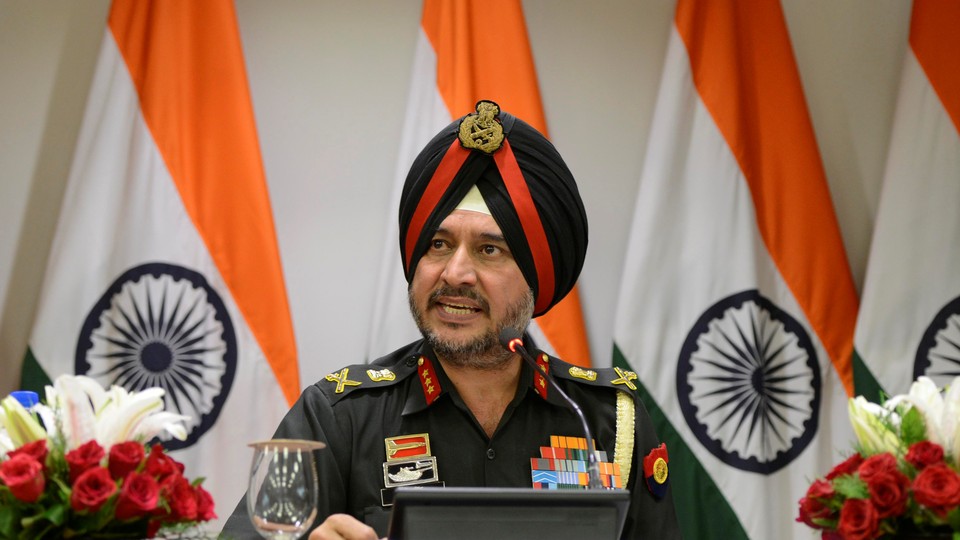 India said Thursday its military launched "surgical strikes" on the Pakistani side of the de-facto border in Kashmir, inflicting "significant casualties" on militants as well as "those who are trying to support them." Pakistan denied any such strike took place, but said two of its soldiers were killed in cross-border shelling.
The escalation in tensions between the nuclear-armed rivals is the culmination of 10 days of pressure—from politicians, the public, and the media—on the government of Prime Minister Narendra Modi to retaliate against Pakistan after militants struck an army base in Uri, in Indian-controlled Kashmir, killing 18 soldiers. India accuses Pakistan of supporting the militants in Kashmir with money, training, and weapons, but Islamabad says it provides them only moral support.
At a news briefing in New Delhi on Thursday, Lieutenant General Ranbir Singh, the director general of military operations, said the strikes overnight were carried out "based on very specific and credible information … that some terrorist teams had positioned itself along the line of control." That's a reference to the de-facto border between the two countries in Kashmir.
"During the counter-terrorist operations, significant casualties have been caused to the terrorists and those who were trying to support them," he said. "The operations have since ceased."
Singh did not specify how the strikes were carried out, but the semi-official Press Trust of India news agency cited unnamed defense sources as saying that military helicopters and ground forces were used in the operation.
Pakistan's military, in a statement on its website, denied any such strike occurred, but said two soldiers were killed.
"The notion of surgical strike linked to alleged terrorists bases is an illusion being deliberately generated by Indian to create false effects," the statement said. "This quest by Indian establishment to create media hype by rebranding cross border fire as surgical strike is fabrication of truth. Pakistan has made it clear that if there is a surgical strike on Pakistani soil, same will be strongly responded."
Relations between the two countries, which celebrated their 69th Independence Day last month within a day of each other, has always been fraught. Attempts at diplomacy over the decades, with promising speeches and photo-ops between their leaders, have yielded to attacks, accusations, and counteraccusations. In that period, they have fought three wars (1947, 1965, and 1971), one limited, but bloody border conflict in Kargil (in 1999), and came close to a war in 2001-2002. They have also been engaged in countless skirmishes and engage in semi-regular shelling across their common border in Kashmir. Indian and Western intelligence agencies point out that many of the attacks carried out in India, including the deadly 2008 attacks in Mumbai that killed 164 people, originated in Pakistan. (Pakistan, in turn, accuses India of fomenting unrest in Balochistan Province.)
It is Kashmir that is at the heart of the conflict between the two countries. The region is divided between India, which controls about two-thirds, and Pakistan, which controls about a third (China holds a tiny portion). The Indian state of Jammu and Kashmir is the only Muslim-majority state in predominantly Hindu, but officially secular India, and it has been home to the bloody separatist rebellion for the past few decades. India accuses Pakistan, an Islamic republic, of fomenting the unrest in Kashmir. Pakistan denies the charge.