The Charge Against the Hungarian Camerawoman Who Kicked Migrants
If convicted, Petra Laszlo could face two years in prison for last September's incident.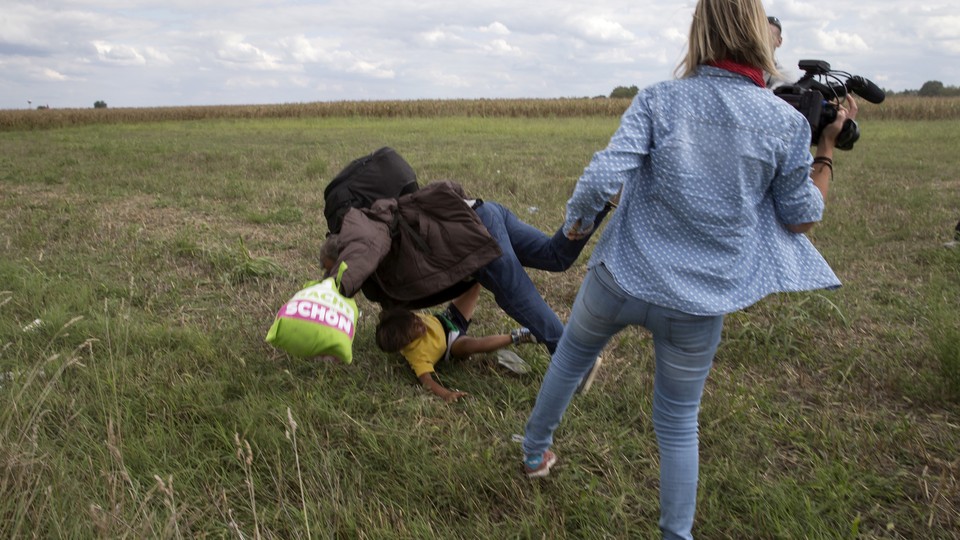 NEWS BRIEF One week after a picture of a drowned 3-year-old Syrian boy washed ashore in Turkey circulated online last September, another image from Europe's migrant crisis went viral: a camerawoman kicking and tripping refugees as they fled police at the Hungary-Serbia border.
A year later, Petra Laszlo, who was soon after fired from her job at a far-right Hungarian television channel, is now facing criminal charges for the incident. Hungarian prosecutors said Wednesday her actions were a "breach of peace." The New York Times explains the charges and her potential punishment:
The charge, breach of peace, is defined in Hungarian law as antisocial, violent behavior capable of inciting indignation or alarm, and it carries a maximum sentence of two years in prison unless there are aggravating circumstances.
Hungarian prosecutors say Laszlo did not cause injury and was not motivated by racism.
The incident was captured on German television channel RTL Aktuell. Laszlo kicked two migrants and appeared to trip another man holding his child.
The man she tripped, Osama Abdul Mohsen, was coming from Turkey. He now lives in Spain as a permanent resident with two of his children. After the video appeared online, a soccer coach academy in Getafe, a town just outside of Madrid, offered him a job, an apartment, and free Spanish-language lessons. He even met international soccer star Cristiano Ronaldo.
But his wife and two other children remain in Turkey. Mohsen recently told Al-Jazeera that his life is incomplete without his entire family. "I would do anything so we can live together," he said. "And if that means we have to move to another country, we will do so."
Laszlo apologized for the incident soon after, claiming she was scared and was only trying to protect herself. But she has attacked Mohsen in the Hungarian press, saying he has ties to terrorist organizations. The New York Times has called those claims "unfounded."
The trial date for Laszlo has not been set yet.