Clinton Battles Pneumonia
The candidate's doctor disclosed the diagnosis after Clinton's sudden departure from a 9/11 commemoration.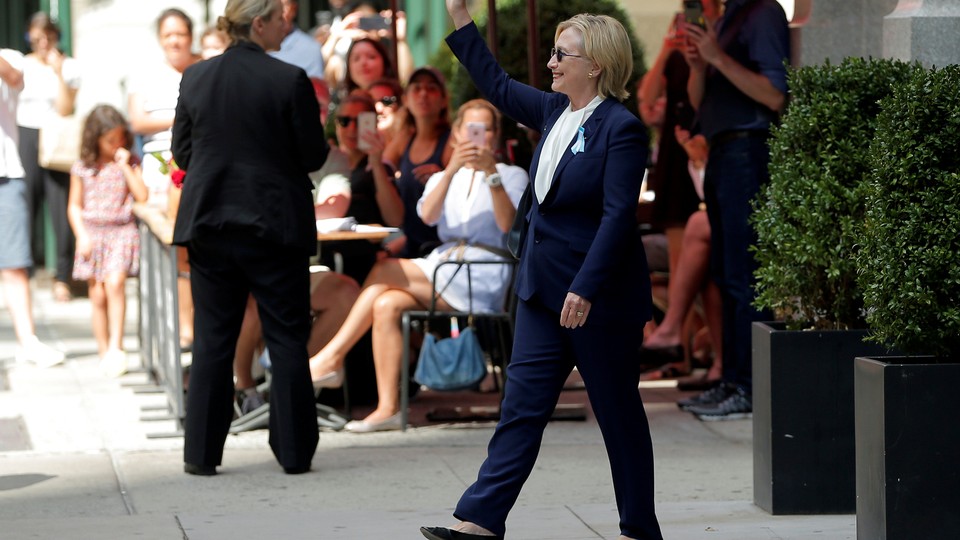 Updated at 5:52 p.m. ET
Hillary Clinton has been diagnosed with pneumonia, her doctor said Sunday after her sudden departure from a memorial ceremony at Ground Zero sparked a frenzy of speculation about her health.
"Secretary Clinton has been experiencing a cough related to allergies," said Lisa Bardack, Clinton's physician, in a statement. "On Friday, during follow up evaluation of her prolonged cough, she was diagnosed with pneumonia. She was put on antibiotics, and advised to rest and modify her schedule. While at this morning's event, she became overheated and dehydrated. I have just examined her and she is now rehydrated and recovering nicely."
The Democratic presidential nominee left early during a ceremony in New York to commemorate the 15th anniversary of the September 11 terrorist attacks because she felt "overheated," her campaign said Sunday.
"During the ceremony, she felt overheated so departed to go to her daughter's apartment, and is feeling much better," Clinton spokesman Nick Merrill said in a statement. Merrill pointed out Clinton attended the ceremony for 90 minutes before she was escorted out.
Video captured by an attendee and posted online shows Clinton standing arm-in-arm with a staffer as a black van approaches to remove her from the ceremony. Clinton stumbles as she steps off the curb toward the vehicle, and is helped inside by those around her.
Temperatures in New York City were in the low 80s Sunday morning. Clinton left the ceremony at about 9:30 a.m., according to The New York Times. Her daughter, Chelsea, lives in New York City's Flatiron District, about a 20-minute drive from Ground Zero, where the memorial was held. Her campaign took more than an hour to offer an explanation of her sudden departure.
Clinton emerged from her daughter's apartment at about 11:40 a.m., wearing sunglasses and waving to onlookers.
"I'm feeling great," she said, according to reporters outside the building. "It's a beautiful day in New York." Clinton was driven to her home in Chappaqua, New York, without the press pool that usually follows her on the campaign trail.
Last week, Clinton began her speech at a rally in Cleveland with a coughing fit. "Every time I think about Trump, I get allergic," she joked, and her voice remained hoarse for the duration of her remarks. That incident fueled conspiratorial whispers that Clinton was too sick to be president.
The latest incident in New York could revive criticism from the Trump campaign about Clinton's physical ability to serve as president. Last month, Trump told rally attendees in Ohio he believed Clinton lacked "the mental and physical stamina" to be commander-in-chief. Later that month, Trump, challenged Clinton to release her medical records. "I think that both candidates, Crooked Hillary and myself, should release detailed medical records," Trump tweeted. "I have no problem in doing so! Hillary?"
It's customary for presidential candidates to release documents from their physicians attesting to their good health. In July 2015, three months months after announcing her presidential run, Clinton's campaign released a typical two-page letter from her doctor saying the politician was in "excellent physical condition." The letter said Clinton at the time took medication to treat hypothyroidism and blood thinners to prevent clots. Doctors found a blood clot in Clinton's head in January 2013 during a followup exam for a concussion she suffered a month earlier.
The Trump campaign followed in December 2015, releasing a four-paragraph note in which the candidate's doctor of 25 years said Trump "will be the healthiest individual ever elected to the presidency." That note's lack of detail, and its language, have fueled their own set of questions.
---
Related Videos