The Sectarian Spat Over the Hajj
This latest diplomatic row between Saudi Arabia and Iran takes place as millions of Muslims travel to Mecca to begin the annual Islamic pilgrimage.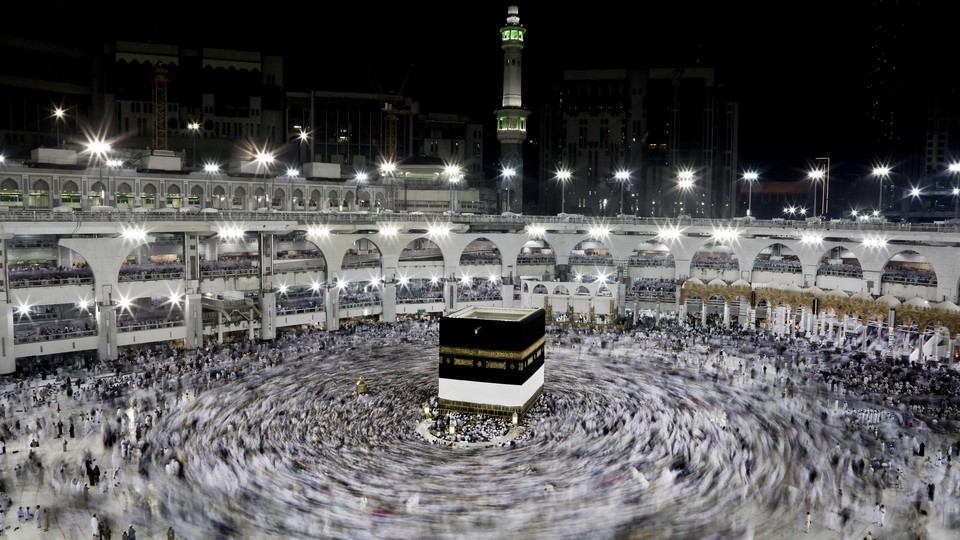 NEWS BRIEF Millions of Muslims from around the world are descending upon Mecca this week to take part in the Hajj, an annual Islamic pilgrimage and one of the world's largest gatherings. This unifying holy ritual, however, has not prevented sectarian rivalries from erupting between Muslim leaders in Saudi Arabia and Iran, who have publicly sparred over which country is best representative of Islam.
This latest diplomatic row follows comments made by Iran's Supreme Leader Ayatollah Ali Khamenei Monday on the anniversary of last year's deadly Hajj stampede, which killed as many as 2,411 pilgrims. Khamenei accused Saudi Arabia of incompetence and called on Muslims to reconsider Saudi control over Islamic holy sites like Mecca. He said:
The heartless and murderous Saudis locked up the injured with the dead in containers- instead of providing medical treatment and helping them or at least quenching their thirst.

…

Because of these rulers' oppressive behavior towards God's guests, the world of Islam must fundamentally reconsider the management of the two holy places and the issue of hajj. Negligence in this regard will confront the Islamic Ummah with more serious problems in the future.
Grand Mufti Abdulaziz Al Sheikh, Saudi Arabia's top cleric, responded Tuesday, saying Iran's leaders were not real Muslims. He accused Iranian leaders of being sons of "majuws," referring to Zoroastrians, one of Iran's oldest religious minorities.
"We must understand that they are not Muslims, for they are the descendants of Majuws, and their enmity toward Muslims, especially the Sunnis, is very old," Al Sheikh told Saudi Arabia's Makkah newspaper.
The cleric's remarks prompted a response from Mohammad Javad Zarif, Iran's foreign minister, who criticized Saudi Arabia's conservative brand of Sunni Islam on Twitter:
Indeed; no resemblance between Islam of Iranians & most Muslims & bigoted extremism that Wahhabi top cleric & Saudi terror masters preach.

— Javad Zarif (@JZarif) September 6, 2016
Tensions between the two countries have only risen since the two broke off diplomatic ties in January following Saudi Arabia's execution of Sheikh Nimr al-Nimr, a prominent Shiite Muslim cleric, and the subsequent storming of the Saudi embassy in Tehran by Iranian protesters. The severing of diplomatic relations follows years of political and religious tension. In addition to vying for regional legitimacy over who best represents Islam, both countries have engaged in the five-year Syrian civil war from opposing sides, with Saudi Arabia supporting Syria's opposition forces while Iran aligns itself with Syrian President Bashar al-Assad.
In May, Iran announced it would not allow any of its citizens to travel to Mecca for the annual pilgrimage, citing "obstacles created by Saudi officials." The five-day ritual begins Saturday.