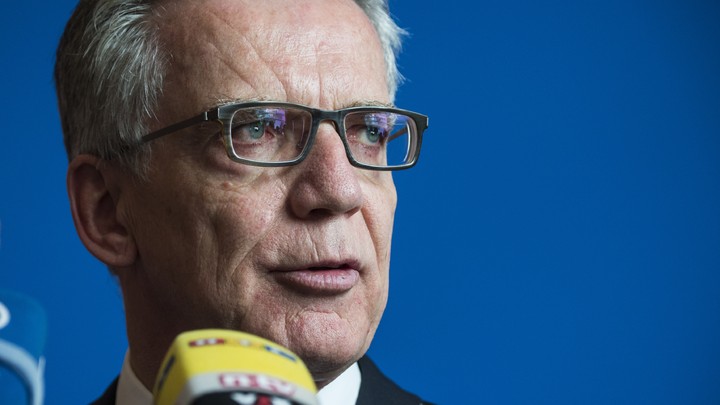 NEWS BRIEF German Interior Minister Thomas de Maiziere said Tuesday the three men arrested earlier in the day had links to the ISIS team that carried out the deadly attacks in Paris last November.
The men—identified as Mahir Al-H., 17, Mohamed A., 26, and Ibrahim M., 18—were arrested after predawn raids in the states of Schleswig-Holstein and Lower Saxony. All were identified as Syrians, and de Maiziere said they were brought  from Syria by the same group that smuggled the Paris attackers out of the country. They "could have been a sleeper cell," de Maiziere said.
Deutsche Welle, the German broadcaster, reported the suspects came to Germany in November 2015 "with the intention of 'carrying out a previously determined order [from IS] or to await further instructions.'"
The German Federal Prosecutor's Office, in a statement, said Mahir Al-H. was trained in Raqaa, the de facto ISIS capital, in September 2015. It said he and the others were given passports, U.S. dollars, and mobile phones. They came to Germany from Syria via Turkey and Greece, the statement said. That is typically the route used by migrants fleeing Syria. The statement added "extensive material" had been seized, but noted no orders had been found for the group.
More than 200 federal and local police officers were involved in the predawn raids on six locations, including refugee shelters. That revelation—even if it turns out the men weren't actual refugees—are likely to increase scrutiny of Chancellor Angela Merkel's open-doors policy for those fleeing the Syrian civil war. Although the policy was popular at first, terrorist attacks across Europe, including in Germany this summer, have made Germans wary about the identities of those individuals being allowed to stay in their country without a rigorous screening process. Last week, Merkel's party was pushed to third position by a far-right, anti-immigrant party in local election in the chancellor's home state. Merkel, however, has defended her policy, saying recently that despite the influx of more than 1 million asylum-seekers since last year, "Germany will remain Germany."
We want to hear what you think about this article. Submit a letter to the editor or write to letters@theatlantic.com.