'Germany Will Remain Germany'
Chancellor Angela Merkel defended her migrant policy after her CDU's loss to a right-wing, anti-migrant party in local elections.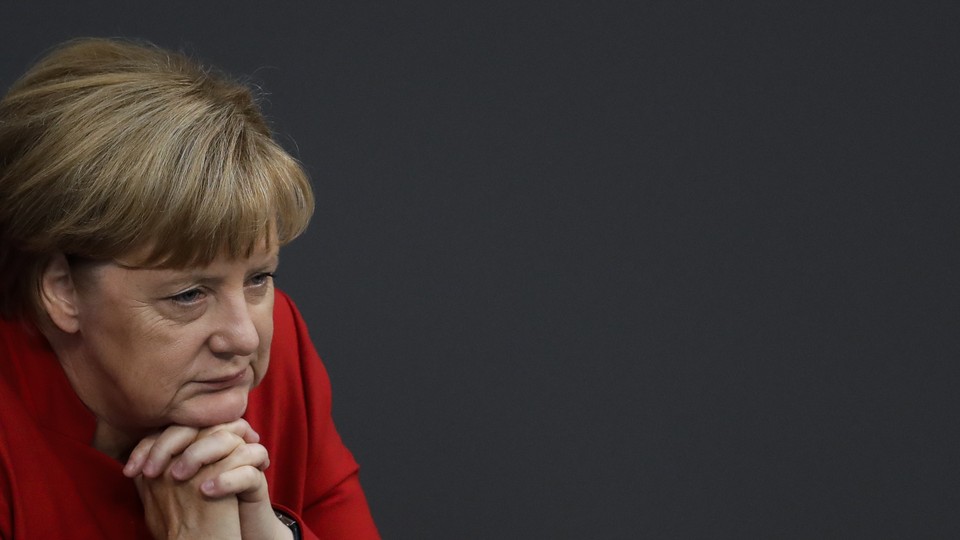 NEWS BRIEF German Chancellor Angela Merkel, coming off a dramatic loss last weekend for her Christian Democratic Union to a new right-wing, anti-migrant party, said Wednesday "Germany will remain Germany" despite the influx of asylum-seekers, and warned against inflammatory political rhetoric directed at the newcomers.
The comments to the Bundestag were Merkel's most comprehensive after the center-right CDU's third-place finish in local elections in her home state of Mecklenburg-West Pomerania. The right-wing Alternative for Germany (AfD) finished second while the center-left Social Democrats retained power.
In her remarks Wednesday, Merkel showcased the economic gains under her chancellorship, but her comments about the asylum-seekers—of whom Germany has accepted more than 1 million since last year—made the most news given the CDU's election performance and growing unease in Germany not only with the newcomers, but with the growing influence of the AfD. The situation, Merkel said in comments translated by Deutsche Welle, "is much better now than a year ago" when hundreds of thousands of asylum-seekers entered the country, "but there remains a lot to do."
"Germany will remain Germany," she said, "and so will all that is dear to it."
Merkel also acknowledged that the AfD's rise posed a "challenge," but warned against inflammatory rhetoric on issues such as migration.
"When we join in with this behavior where facts are ignored or brushed aside, then a responsible and constructive debate is no longer possible," she said.
Last year, amid intense fighting in the Syrian civil war, Merkel threw open Germany's doors for those affected by the violence. The decision led to a massive flow of migrants from Syria and elsewhere to Europe. Faced with the most-severe migrant crisis since World War II, many European countries closed their borders to the newcomers, others made it difficult for them to settle, but Germany, Sweden, Greece, and a handful of other nations maintained their open-doors policy.
Germans initially supported Merkel's policy, but as the number of migrants grew, so did the opposition, including from politicians and members of Merkel's own ruling coalition. That opposition was reflected in the numbers of migrants entering Germany: More than 1 million people entered in 2015. From January to July 2016, according to the Associated Press, Germany registered some 238,424 new arrivals, mostly early in the year.