The Violent Post-Election Protests in Gabon
The opposition says the vote, narrowly won by President Ali Bongo, was rigged. At least three people were killed and 1,000 arrested in the unrest.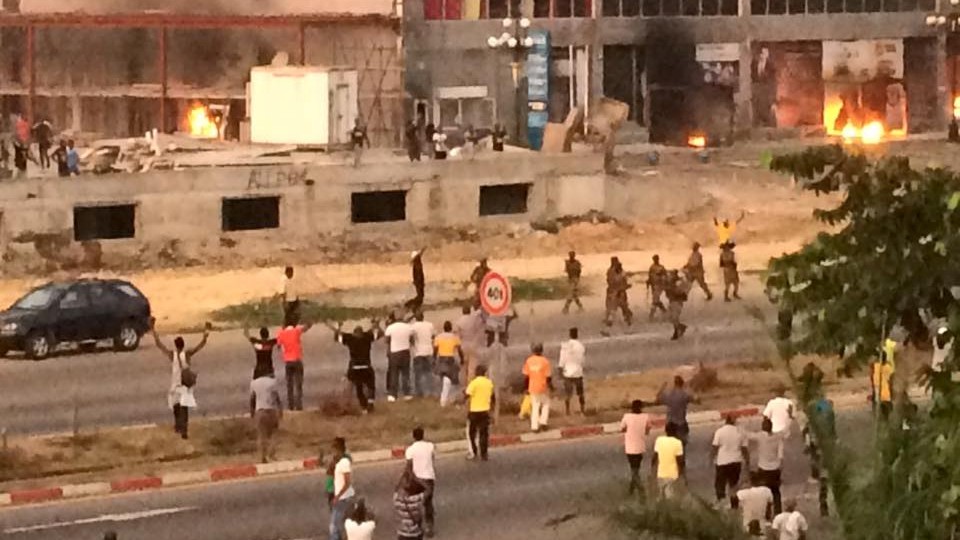 NEWS BRIEF At least three people were killed and more than 1,000 arrested in violent protests that broke out after the re-election of President Ali Bongo in Gabon, Reuters reports.
Gabonese opposition leader Jean Ping said the deaths occurred after police forces attacked his party's headquarters Wednesday night in Liberville, the capital, where residents say the internet has been cut.
Mes pensées vont vers les anonymes qui ont été capturés, blessés ou tués durant les récents évènements. Dieu vous protège et bénisse #gabon

— Jean Ping (@pingjean) September 1, 2016
"My thoughts go out to the anonymous who were captured, injured, or killed during the recent events. God protect you and bless you," Ping tweeted Thursday.
Pacome Moubelet Boubeya, the country's interior minister, said at least 1,000 people were arrested, the majority of them in Liberville. Jean-Thierry Oye Zue, the police chief, told Agence France-Presse six officers were killed in the post-election protests, though he declined to give a total number of fatalities.
The protests in Liberville first erupted Wednesday following the announcement Bongo won re-election by a narrow margin of 5,594 votes—a process Ping's supporters are calling rigged. Thousands of people took to the streets and the National Assembly building was set on fire. Photos and videos from the protests posted on Twitter show people shouting and chanting, injured protesters being carried away on stretchers by paramedics, and security forces dispersing the crowds using tear gas.
Protests continued Thursday in Liberville, where witnesses have reported gunshots, blasts, and looting.
Bongo addressed the violence a series of tweets Thursday, in which he reaffirmed his respect for the electoral process and acknowledged the deaths of those killed.
Je veux exprimer ma grande tristesse devant le décès de certains de nos concitoyens #DirectABO

— Ali Bongo Ondimba (@PresidentABO) September 1, 2016
"I want to express my great sadness at the death of some of our citizens," he tweeted.
Ping rejected the election results and echoed calls made by the United States, France, and the European Union for the Gabonese government to release the election results by individual polling stations.
"The citizens of Gabon peacefully and respectfully exercised their right to freely and fairly choose our country's next president," Ping said in a statement Wednesday. "The current president, Ali Bongo, did not approve of their choice, so he substituted his will for theirs."
Bongo was first elected president of Gabon in 2009, succeeding his father, Omar, who ruled the oil-rich west-central African country for 42 years. The country faced similar violent protests following the 2009 election, in which two people were killed.