Fox News's Settlement With Gretchen Carlson
The network will reportedly pay the former anchor $20 million and has apologized. Meanwhile, Greta Van Susteren, the longtime anchor, is leaving immediately.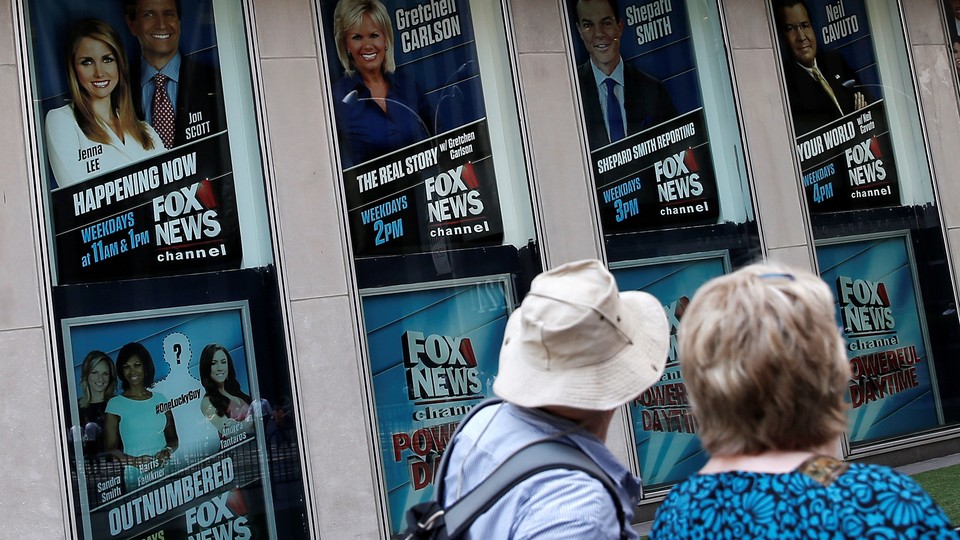 What we know:
—21st Century Fox confirmed Tuesday that it has settled Gretchen Carlson's lawsuit against Fox News.
—News reports say the network will pay the former anchor $20 million.
—Fox News also announced that Greta Van Susteren, the longtime host of On the Record, will leave the network Tuesday.
—We're live-blogging the major updates. All updates are in Eastern Daylight Time (GMT -4).
---
12:01 p.m.
In a statement on Facebook, Van Susteren said the network "has not felt like home to me for a few years." Here's more:
---
11:40 a.m.
New York's Gabriel Sherman, whose reporting has chronicled much of the allegations against Roger Ailes and the culture at Fox News, has more on Greta Van Susteren's departure, saying it wasn't over her contract with the network:
[A] source close to Van Susteren disputed this, telling me Van Susteren left because "she is troubled by the culture" Ailes built. On September 1, Van Susteren notified Fox that she was exercising a clause in her contract that allows her to leave Fox if Ailes is no longer running the channel.

Over the summer, Van Susteren took flak for casting doubt on Carlson's claims. The source says Van Susteren did not know about Ailes's alleged harassment at that point.
---
10:37 a.m.
Greta Van Susteren, in tweets following the news, did not disclose the reason for her departure from Fox News.
But Fox's Howard Kurtz tweeted that she was leaving because of a "key man" clause in her contract, which gave her the option to leave if Roger Ailes did. Here's more:
According to a source familiar with the process, Van Susteren asked to renegotiate her contract after Roger Ailes resigned under pressure as Fox News chairman following a sexual harassment lawsuit.

When those negotiations deadlocked, Van Susteren chose to invoke the departure option, the sources said. Her last show was Thursday, and the swiftness of events did not allow her to deliver an on-air farewell.
---
10:09 a.m.
In a separate statement, Fox News announced that Greta Van Susteren, the longtime host of On the Record, will leave the network after 14 years. The statement did not say whether Van Susteren's departure was related to the scandal involving Ailes or the settlement with Carlson. Her departure is immediate, the statement said. Brit Hume, the longtime Fox News analyst, will take over hosting duties.
"I am happy to take on this assignment for the balance of this extraordinary election," Hume said in the statement, which did not include a reaction from Van Susteren. "My Fox News colleagues have set a high standard for political coverage which I'll do my best to uphold. I'm honored to be asked."
Van Susteren vigorously and publicly defended Ailes during the scandal that erupted after the nature of Carlson's allegations became public. She was tweeting on Tuesday morning before news of her departure was made public. Her tweets did not disclose the impending move. As recently as last month, the Daily Beast quoted Van Susteren as saying about her relationship with Fox News: "I have a very long-term deal."  She added that, in the words of the Beast, "that if she ever loses her show on Fox she'll be happy to return to teaching at Georgetown or re-enter law practice."
---
9:51 a.m.
Gretchen Carlson, in a statement, said she was "gratified" at Fox's "decisive action." She added:
I'm ready to move on to the next chapter of my life in which I will redouble my efforts to empower women in the workplace. I want to thank all the brave women who came forward to tell their own stories and the many people across the country who embraced and supported me in their #StandWithGretchen. All women deserve a dignified and respectful workplace.  
21st Century Fox, which owns Fox News, confirmed the settlement, but not the details being reported in the media.
During her tenure at Fox News, Gretchen exhibited the highest standards of journalism and professionalism. She developed a loyal audience and was a daily source of information for many Americans. We are proud that she was part of the Fox News team. We sincerely regret and apologize for the fact that Gretchen was not treated with the respect and dignity that she and all of our colleagues deserve.  We know Gretchen will be successful in whatever endeavors she chooses in the future.
---
9:43 a.m.
NEWS BRIEF Fox News will reportedly pay Gretchen Carlson $20 million and apologize to the anchor over her allegations of sexual harassment at the hands of Roger Ailes, the former network chief.
The news, which was first reported Tuesday by Vanity Fair, was also reported by NPR. Here's more from Vanity Fair:
Now the company has agreed, on behalf of Ailes, to settle Carlson's suit for a stunning $20 million, according to three people familiar with the settlement. To reinforce their seriousness about creating a new culture in a post-Ailes world, the company is expected to offer Carlson a public apology as part of the settlement. (The company, according to two people familiar with the discussions, has also reached settlement agreements with two other women.)
News of the reported settlement comes after a whirlwind of negative publicity surrounding the network that began in July when Carlson alleged Ailes fired her from the network the previous month because she spurned his sexual advances and because she complained to him about sexual harassment in the office. Ailes vigorously denied the accusations, but several other women came forward to detail allegations of sexual advances, harassment, and misogyny at Fox. Most of those allegations were first published by New York magazine. Ailes left the network amid the controversy—reportedly with a $40 million parachute.